Burkina Faso
People caught in a perfect storm of conflict, displacement and food insecurity
For over a year, around 350,000 individuals have been trapped in Djibo, a city located in Burkina Faso's Sahel region. Among them, three-quarters are internally displaced people seeking refuge from the storms of conflict. Since February 2022, non-state armed groups have blockaded the city, planting explosives on roads and destroying critical infrastructure including bridges, water points and phone installations.
Once a vibrant hub of trade and agriculture, Djibo is now cut off from the world. Fields lie abandoned, and food production has plummeted. Escalating prices have left many grappling with hunger, with some forced to resort to desperate measures such as eating leaves.
Military convoys attempting to resupply Djibo residents have faced targeted attacks. Humanitarian organisations are relying solely on the Air Bridge which has become a critical lifeline — but one that falls short of reaching everyone in need.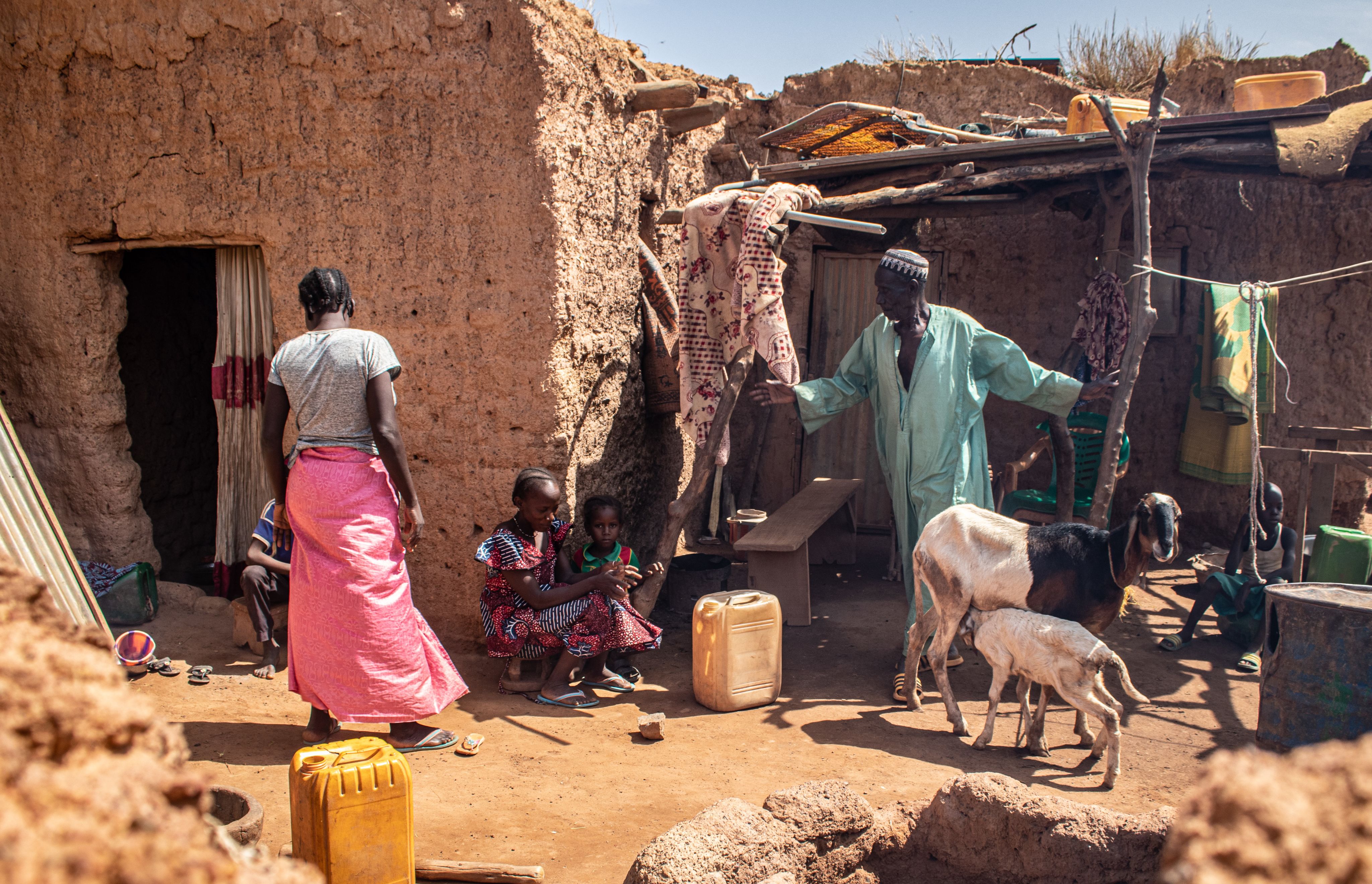 A worsening humanitarian situation
Djibo's plight is just one part of a larger crisis gripping Burkina Faso. Over the past five years, the country has witnessed devastating conflict, claiming the lives of nearly 15,000 people, with a majority of those casualties occurring in the last 16 months alone.
The number of internally displaced people has surged from just a few thousand in 2018 to nearly 2 million by 2022. At the same time, the number of people facing acute food insecurity has multiplied ninefold.
By August 2023, the number of severely food-insecure people is projected to increase by 42 per cent, reaching over 3.4 million people. According to this projection, 43,000 people will be in catastrophic level of food insecurity, the highest figure ever recorded. Ninety-three per cent of them live in Burkina Faso's Sahel region, where access constraints are severe.
Number of conflict incidents, IDPs and food insecure people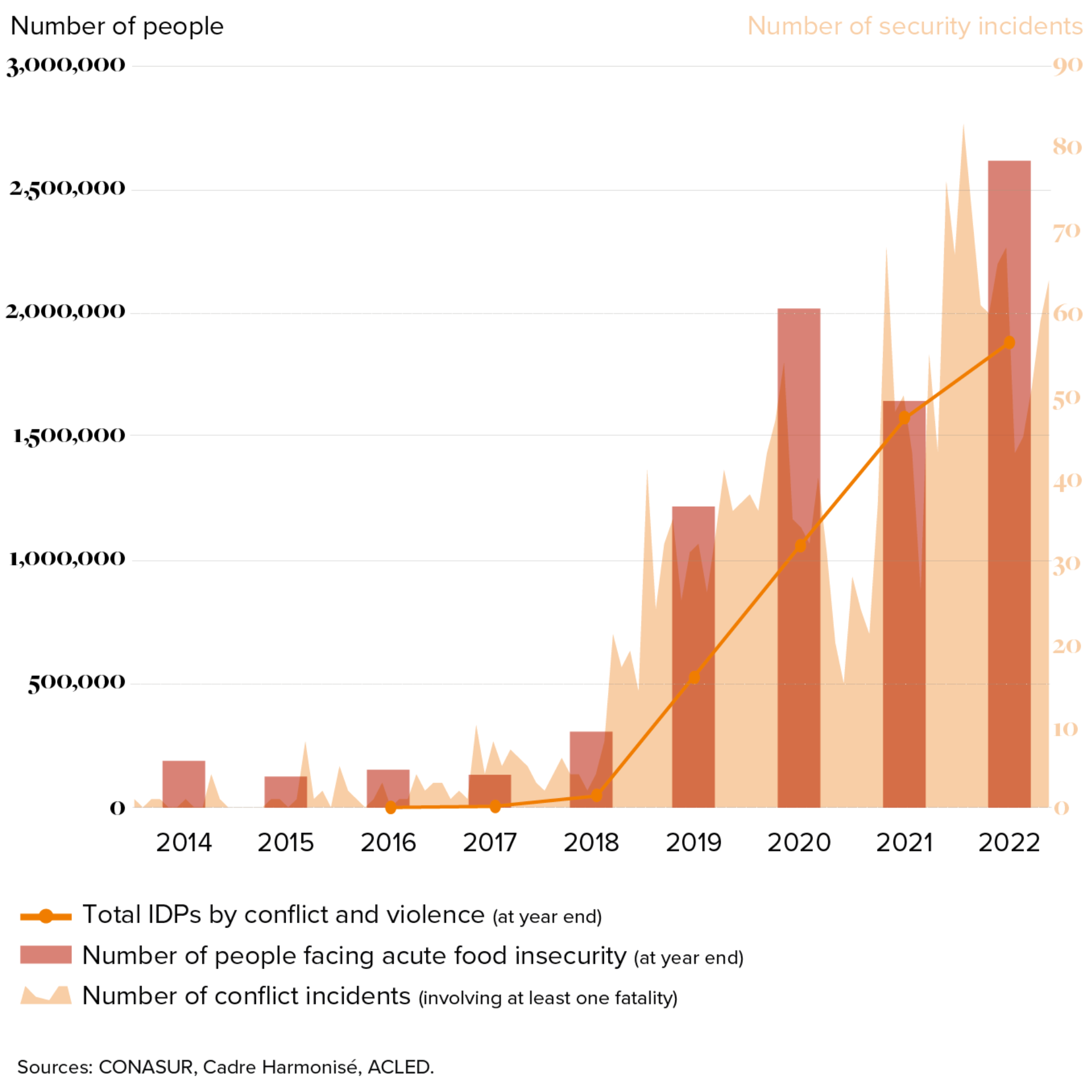 "Our children eat [leaves] and go to bed with nothing else in their stomachs," explained one mother. "Days when we don't find leaves, they only drink warm water. In the morning, they wake up and start crying… And we cry with them."
Targeted attacks on water sources since the start of 2022 have left up to a million people without access to drinking water, a number twice as high as those who received humanitarian assistance for water last year. In Djibo, the availability of water plummeted to less than three litres per person per day, which falls significantly below the minimum survival allocation of seven litres.
These escalating challenges, coupled with limited international attention and insufficient funding, have propelled Burkina Faso to the forefront of the world's most neglected crises for the first time, as revealed in NRC's 2022 report.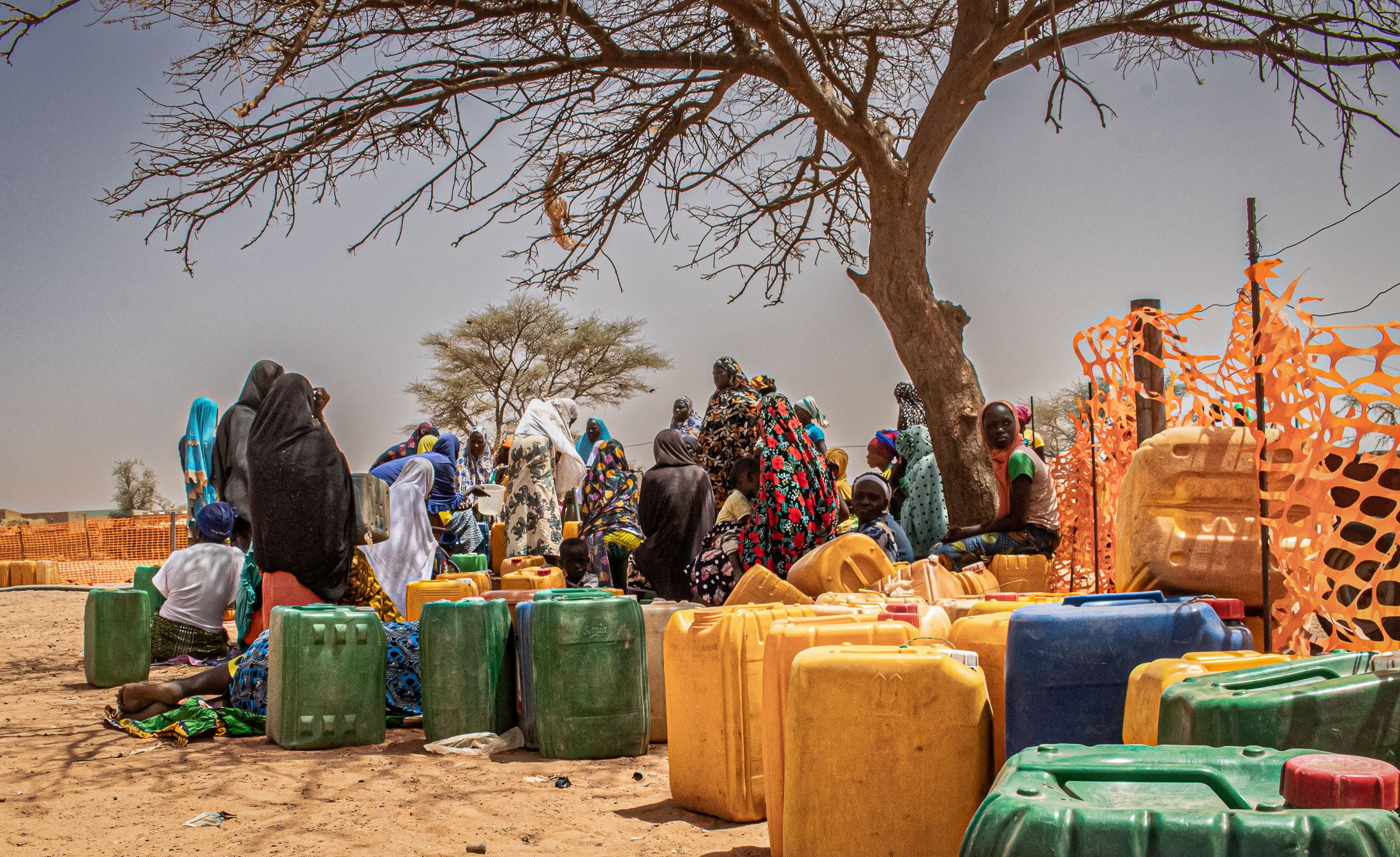 As merchants and traders stopped going in and out of Djibo since the start of the blockade, markets are deserted and local shops only carry some odd items such as cleaning products, tea and coffee, leaving most shelves empty.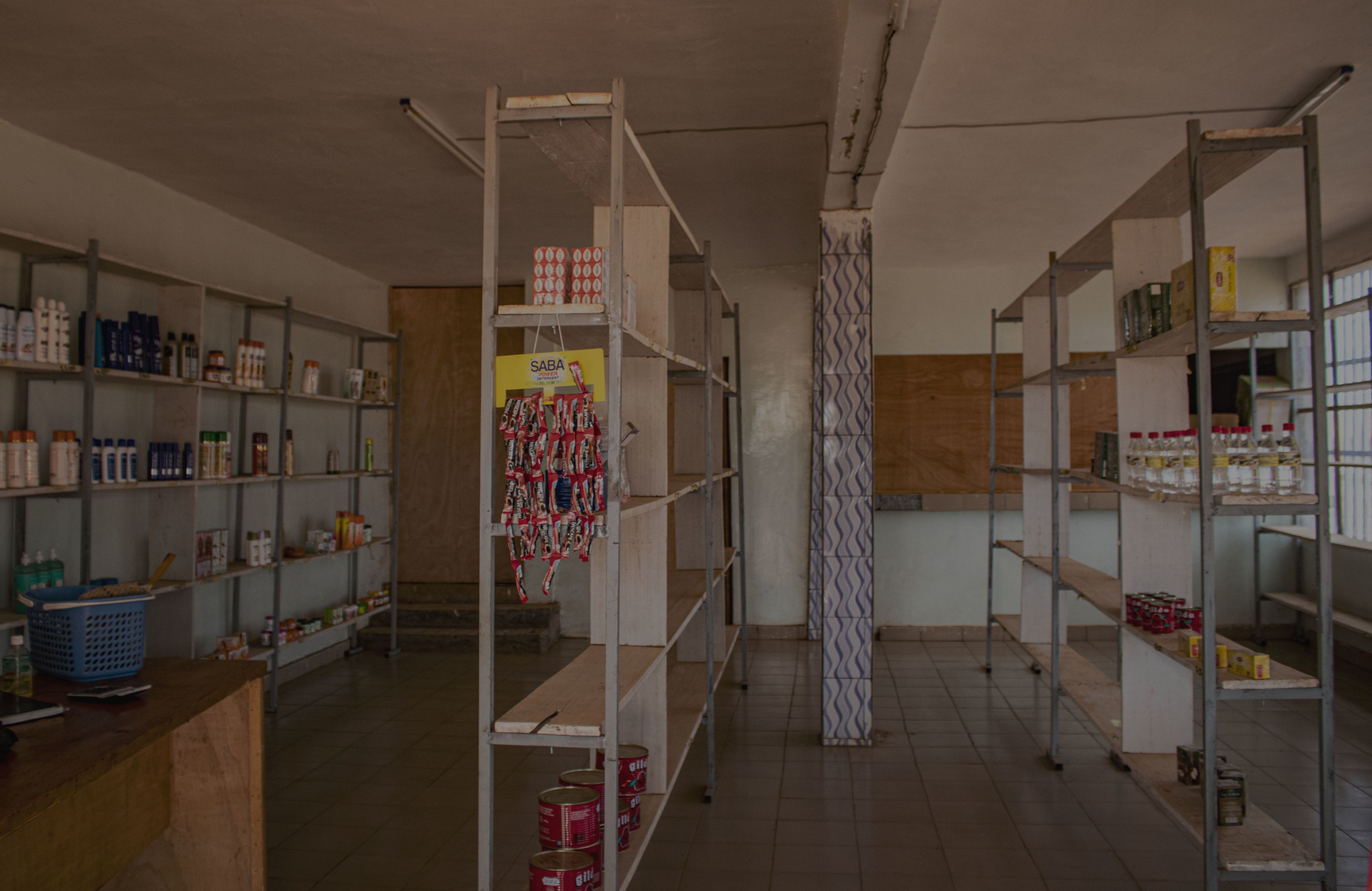 Spatial footprint of IDPs and food insecurity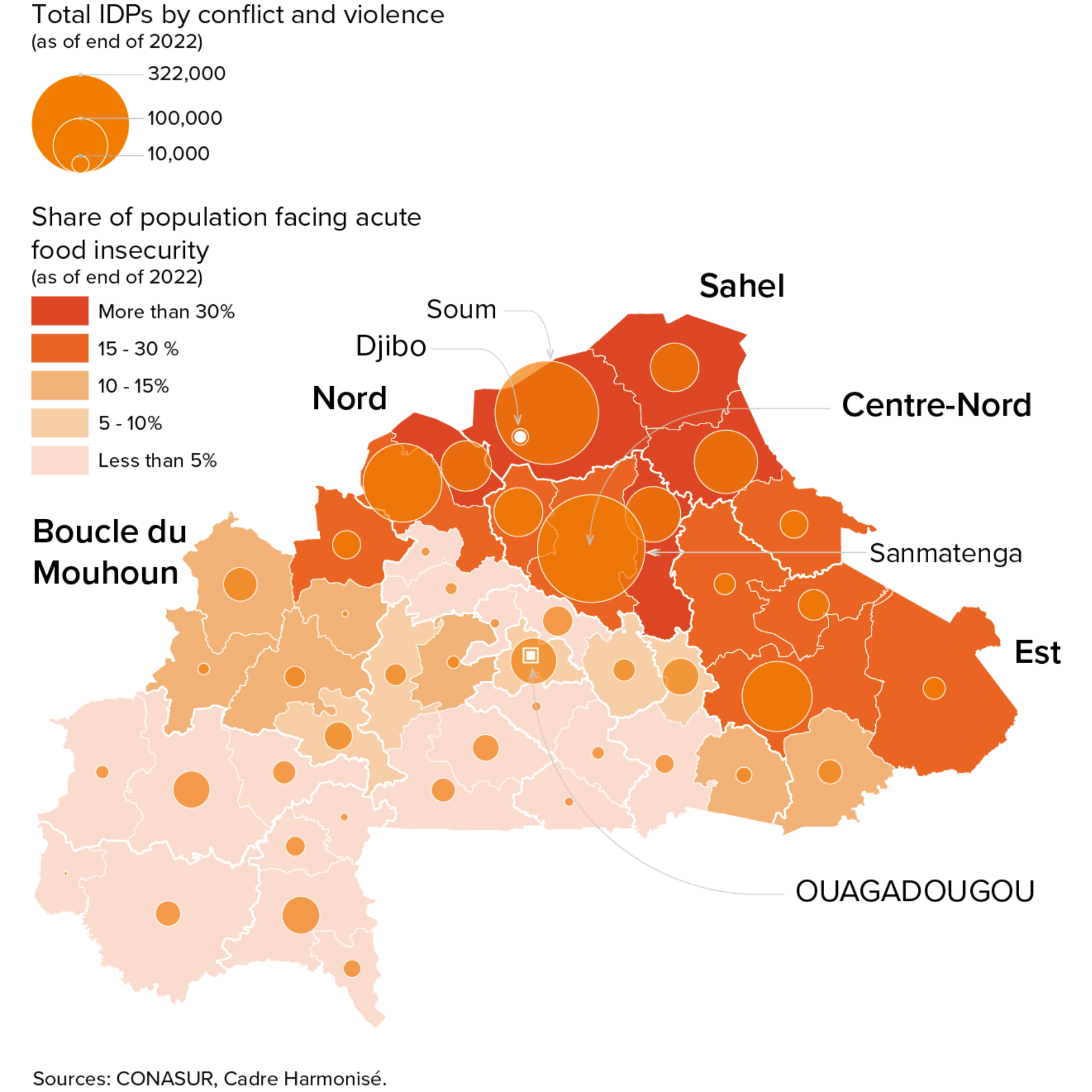 A complex relationship between conflict, internal displacement and food security
A recent joint analysis by IDMC and NRC delved into the intricate connections between conflict, food security and internal displacement in Burkina Faso. The findings reveal a strong link between conflict-driven displacement and food insecurity at the local level.
Two regions in Burkina Faso - the Centre-Nord and Sahel - host the largest internally displaced populations and have the highest levels of food insecurity. In 2022, more than half of the country's internally displaced population sought refuge in these regions, while more than one-third of those facing crisis levels of food insecurity or worse were concentrated there.
Sanmatenga, a province located in Burkina Faso's Centre-Nord region, bears the brunt of internal displacement and food insecurity, with the highest number of people affected across the entire country. Similarly, in the Sahel region, the province of Soum faces the second-highest number of IDPs and is the only area where people are facing the highest levels of acute food insecurity.
"There is nothing left to eat," said one resident to NRC. Whether you are internally displaced or local, you go hungry."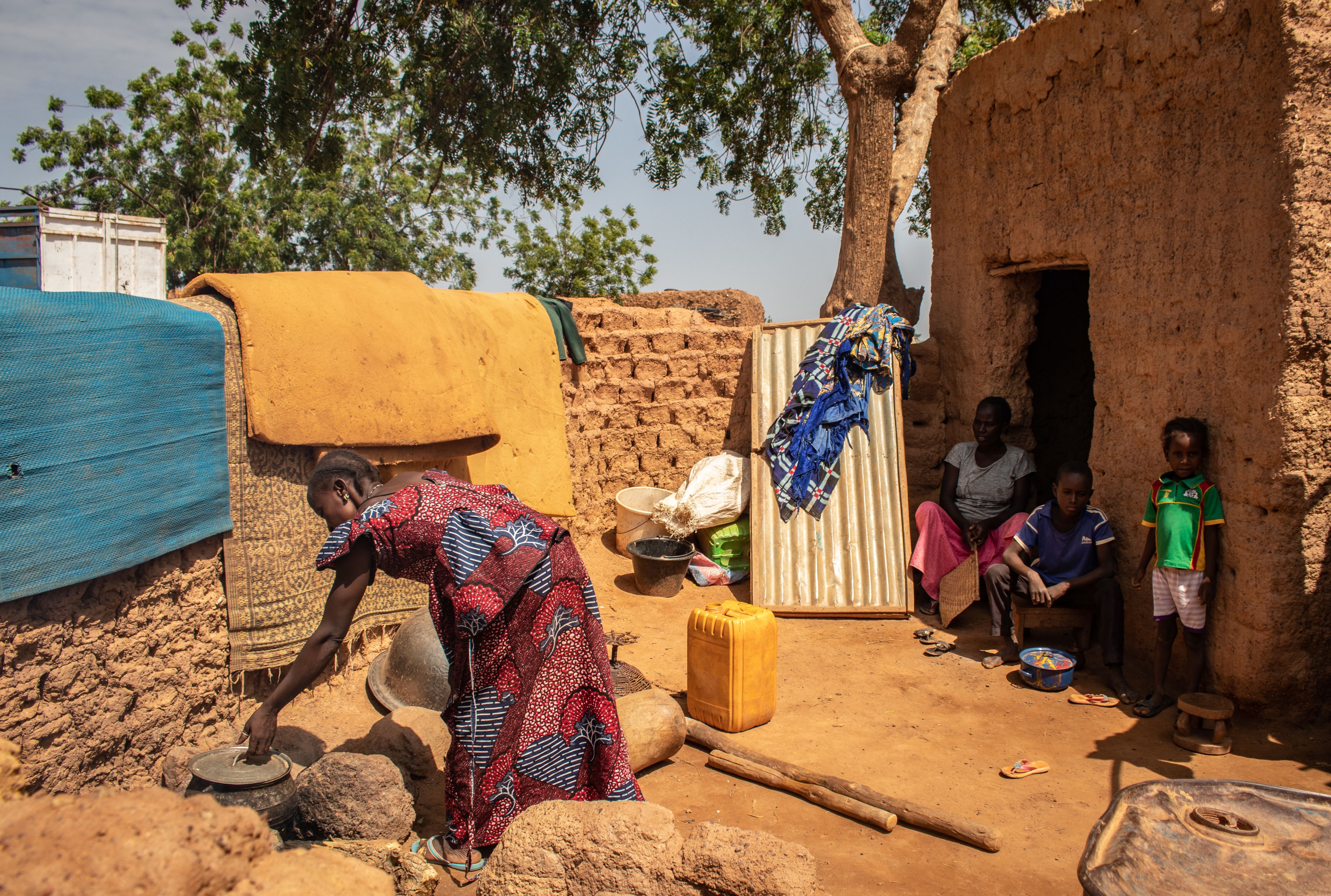 Diverging consequences
In certain areas, internally displaced individuals face a staggering threefold higher risk of acute food insecurity compared to host community members. Stripped of their livestock and access to farmlands, their vulnerability soars. Rising prices compound their struggle, as they grapple to find new livelihoods in unfamiliar territories.
In other regions, food insecurity affects both displaced and host communities alike. This is particularly true in areas that have fallen under blockades, where once thriving businesses have ground to a halt. Empty markets and inaccessible farmlands on the outskirts of towns, fraught with skirmishes between the military and non-state armed groups, further exacerbate the dire situation. Despite humanitarian assistance being provided through the Air Bridge, it remains insufficient to address the pressing food needs of the affected populations. As a result, civilians in these areas, whether displaced or long-time residents are left with scant food resources.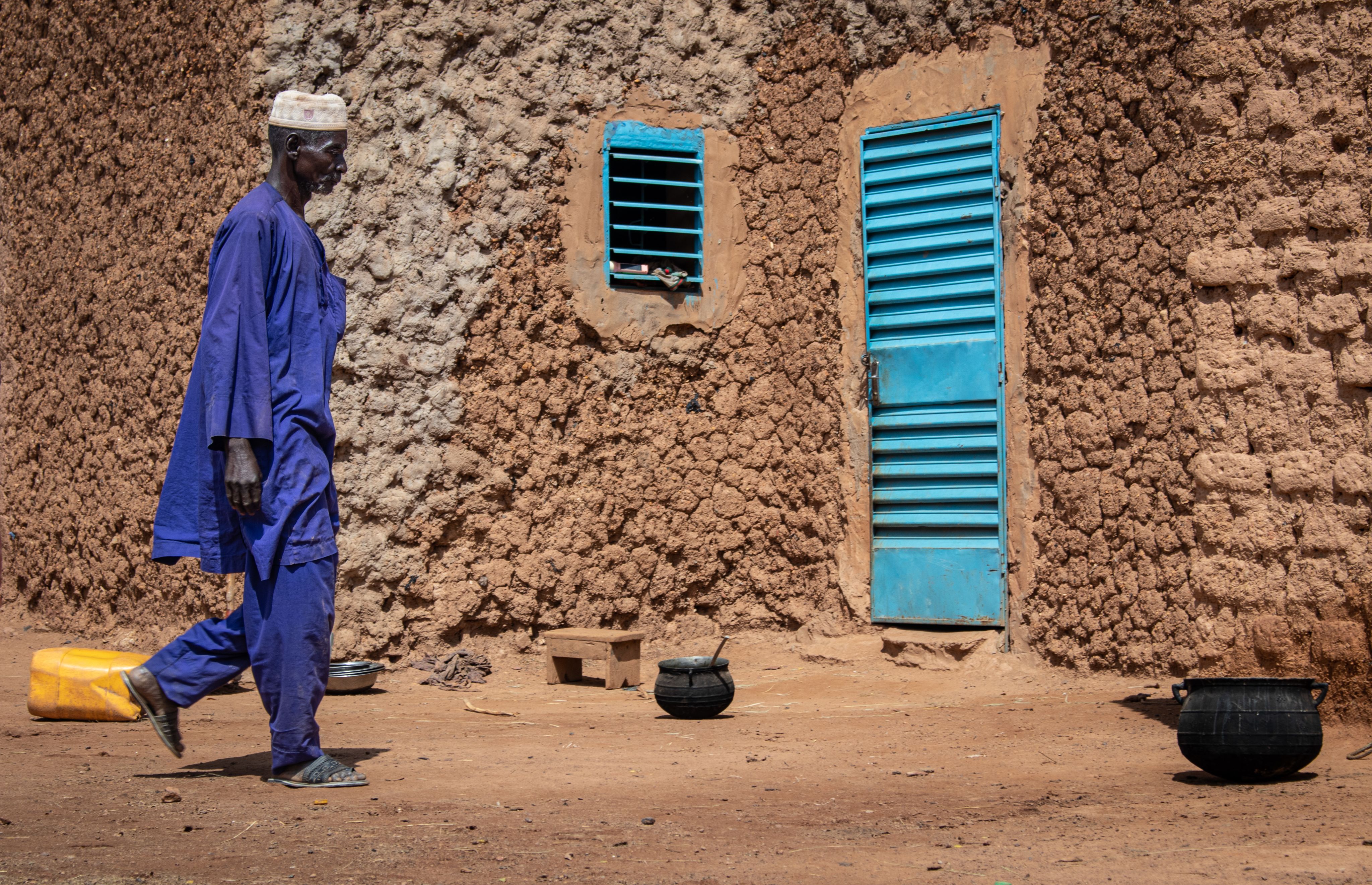 Conflict, internal displacement, and food security in Burkina Faso require a localised assessment. By delving into the specific localities affected, we can determine which groups bear the heaviest burden and identify the most effective responses.
In areas where internal displacement is prevalent, prioritising increased access to farmland and livelihood opportunities becomes the most effective safeguard against hunger.
Meanwhile, in blockaded areas, urgent action should be taken to establish humanitarian land corridors, enabling the delivery of substantial and life-saving assistance to the population in dire need.
READ MORE in IDMC and NRC's joint analysis: Surviving in crisis: Unpacking the link between conflict, displacement and food security in Burkina Faso
Photos and video by Jacques Bouda/NRC
Graph and map by Stéphane Kluser/Komplo