The road was long
A voice from Ukraine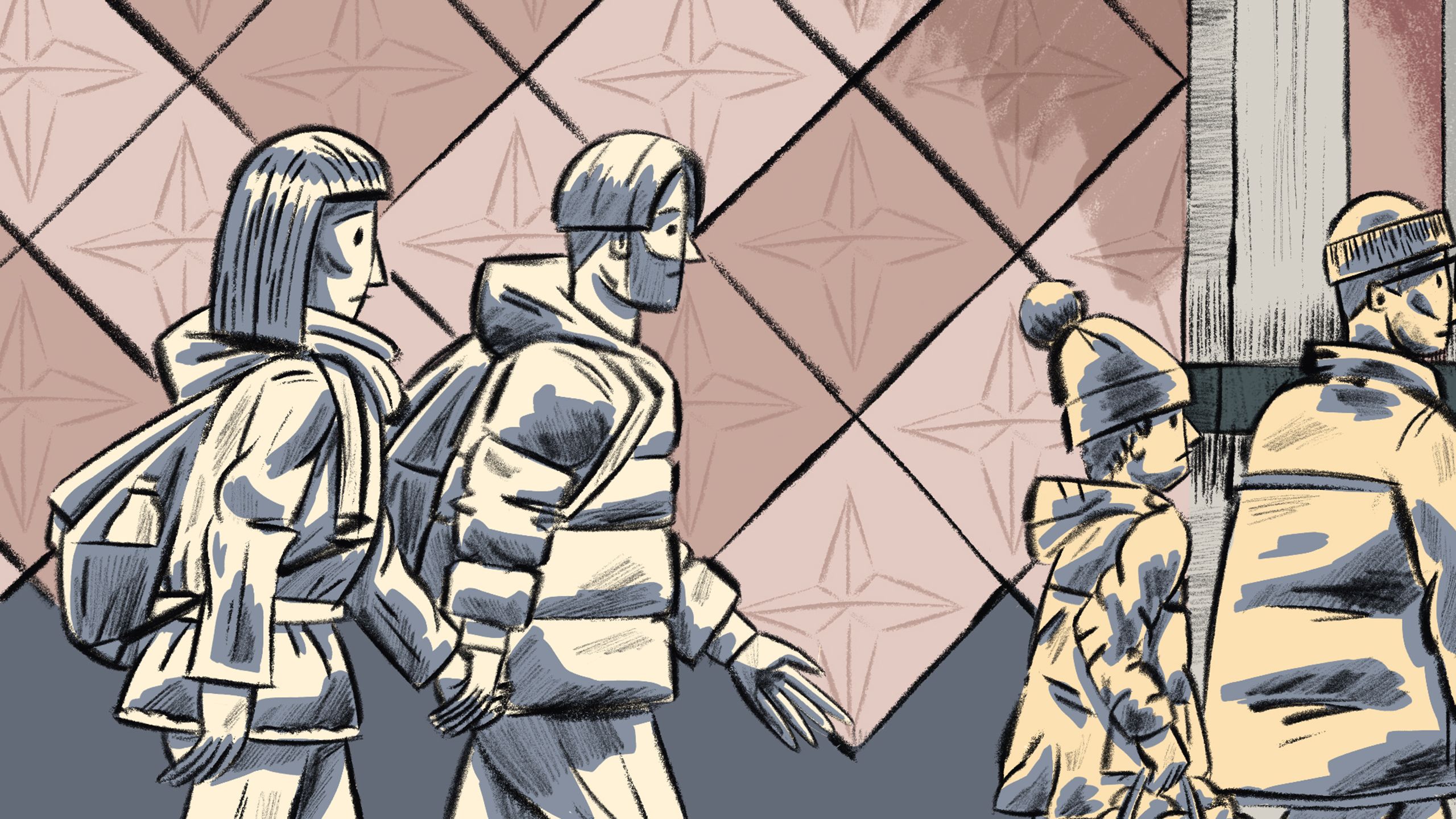 Since Russia launched a military offensive against Ukraine on 24th February, millions of civilians have been forced to flee. Some seek assistance across borders, others search for safer areas within the country, and many more are trapped by ongoing conflict, unable to move. Kristina was displaced from Kharkiv in eastern Ukraine to Lviv in the West. She shared her story with IDMC.
I come from western Ukraine, but I have been living in Kharkiv, eastern Ukraine for the last six years. I work in a student public organization. My husband is a programmer.
The whole world has been watching Russia gradually increase its military forces on Ukraine's borders over the past year.
Of course, we understood that there was a threat of a possible invasion but, until the end, we hoped that this would not happen.
Back in December, my husband and I prepared emergency backpacks with necessary things like documents, cash and clothes, just in case.
We devised a personal plan to evacuate the city in case Russia invaded our country. Our friends and co-workers in Kharkiv (and all over Ukraine) also prepared as best as they could. At the same time, however, we tried to continue to live the usual rhythm of life, work, study and so on.
It all started on the night of February 24. Western media reported on a possible Russian invasion. I didn't sleep until 4:20 am. I was worried and watched the news feed. Everything looked calm and I went to bed. But about an hour later my husband and I woke up to the sounds of rocket fire outside the window. My first words to my husband: "We are being bombed."
When it happened, my first reaction was that it was hard to believe. We went to the window and saw a flash of bombing on the horizon. Immediately we checked social media. Our friends from Kharkiv began to write that they heard explosions. A few minutes later, friends, not only from Kharkiv but also from Kyiv and Odessa, also wrote that they had heard explosions.
The war had begun.
We were in a state of stress and anxiety. My husband and I sat by the wall for a few minutes, reading all these messages from our friends about the explosions and thinking about how to get out of Kharkiv as soon as possible. Realizing that it is safer to be in a bomb shelter, we decided to run to the subway station. Around 05:35 we quickly got dressed, took our emergency backpacks and left the house.
On the street, we saw other people with suitcases leaving their homes and getting into cars. We ran to the subway station because we heard the sounds of explosions somewhere nearby. We sat in the station for about 1.5 hours, waiting for a bus to take us to Lviv. More and more people appeared in the station, with children, with suitcases, people were fussing. It turned out that our bus was cancelled, but fortunately there was another bus. The driver spontaneously gathered people who were ready to evacuate to Lviv. We were saved by the fact that we had prepared cash and were ready to pay quickly and get on the bus.
That morning, the friends who were able to leave Kharkiv were the ones who, like us, reacted quickly. Those who had prepared emergency backpacks, saved money, refuelled cars. Many of my friends stayed in Kharkiv for a week in bomb shelters and could not leave due to constant air strikes. Almost all my friends have now been evacuated from Kharkiv in various ways. But there are those who stayed because they do not want to leave or cannot, as they have relatives who cannot physically evacuate, or they are in areas where there is constant shelling and they can't get out of there.
My husband and I rode that bus for 30 hours. It took four hours to drive the first 100 kilometres on the way out of Kharkiv. There were huge traffic jams all over Ukraine as many people tried to evacuate. When we left, there were about 20 people on the bus.
The road was long, there were just a few stops, as we picked up more people in Kyiv and Ternopil. It was alarming as we drove towards Kyiv because helicopters were flying over us. And, as we approached Lviv, we saw a dark trail in the sky, possibly from a downed drone.
In total about 90 people came to Lviv. Some made the journey without food and water. People were just trying to get to western Ukraine as soon as possible.
In Lviv, my husband and I were met by my father and we went to his home, a bit outside the city. Arriving there, we felt calmer as, in the background, you do not hear all the constant explosions like in Kharkiv.
But we still hear air sirens several times a day. There were explosions here at military facilities on the first morning of the war, and a few days ago rockets were fired at a military training ground in Yavoriv, 90 kilometres from us. About 35 people were killed and more than 100 were injured.
So, people are anxious and scared when the air sirens go off, because we do not feel completely safe here, since the airspace is not closed. At the moment, there are a lot of people displaced from all over Ukraine in our town. Supermarket shelves are half-empty, although there is still delivery of food and medicine.
It is difficult knowing there are still relatives and friends all over Ukraine who are in the territories where there are constant battles and shelling. They cannot leave because of the Russian military occupation. Several of my friends have already lost their apartments and houses.
Because my husband is not a citizen of Ukraine, he is not subject to military conscription, so we can go elsewhere in Europe to stay with relatives. However, at the moment, we have decided to stay in Ukraine because we do not want to leave our country and our relatives who cannot leave.
My husband still has his job and I have been helping to evacuate people from Kharkiv remotely. I am also raising funds to help internally displaced people and refugees, those who lost their jobs during the war and those who are involved in humanitarian aid, delivering food and medicine to people. Therefore, we are currently staying in Ukraine, praying, believing in victory and thinking about how we can help people at this time.
The conflict in Ukraine is having severe impacts on civilians, including casualties and death, mass displacement and a rapid rise in humanitarian needs. Due to the destruction of homes and infrastructure, displacement is likely to last for a long time. IDMC is monitoring the situation and supporting partners to gather as much information as possible to help inform targeted aid and sustainable solutions.
Find out more about what we know of the internal displacement situation inside Ukraine in our blog.