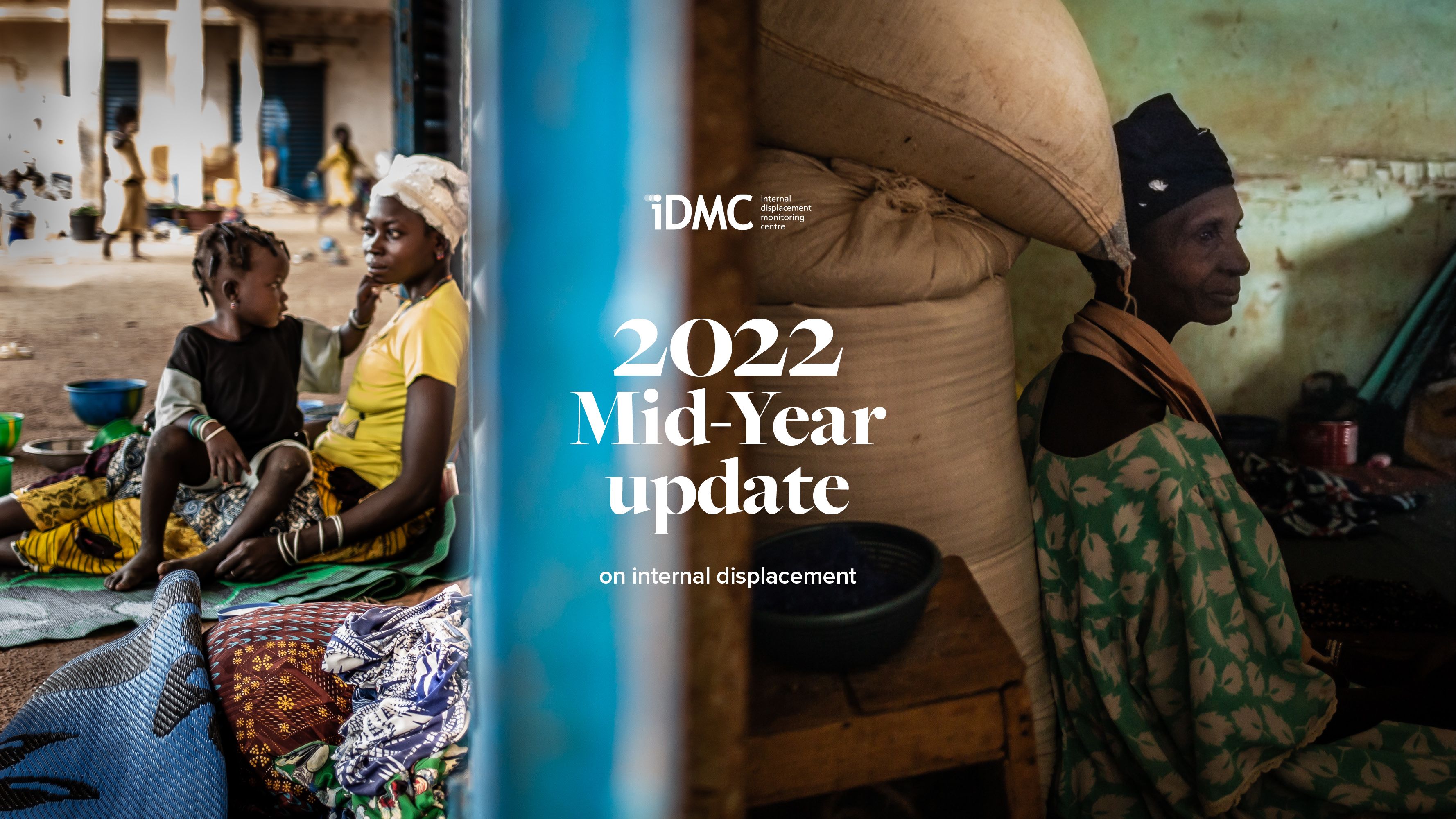 Displaced women sheltering in the school of Ouahigouya, having fled an armed attack on their village of Nogo, North province, Burkina Faso. ©Tom Peyre-Costa/NRC
Displaced women sheltering in the school of Ouahigouya, having fled an armed attack on their village of Nogo, North province, Burkina Faso. ©Tom Peyre-Costa/NRC
Every day, people flee conflict and disasters and become displaced inside their own countries. The Internal Displacement Monitoring Centre (IDMC), established in 1998 as part of the Norwegian Refugee Council, provides data and analysis and supports partners in identifying and implementing solutions to internal displacement.
Main trends
After the global number of internally displaced people (IDPs) reached an all-time high at the end of 2021, preliminary estimates show that the number of people displaced by conflict, violence and disasters continues to reach new levels in 2022. With severe crises occurring in every region, renewed efforts to prevent displacement and bring it to a sustainable end are more urgent than ever.
Of utmost concern is the war in Ukraine which, as of June 2022, had left 6.3 million people internally displaced in what has become the most rapidly evolving conflict displacement crisis ever recorded. It continues to force people to flee their homes, but returns are also taking place driven by an array of motivations and conditions. The global economy is suffering supply chain disruptions and inflation driven up by increasing fuel and food prices, which have disproportionately affected IDPs and countries affected by displacement.
In addition, much of the conflict and violence that fuelled 2021's displacement figures have continued unabated. From Burkina Faso to Mozambique, and from the Democratic Republic of the Congo to Myanmar, significant numbers of new and repeated movements have been recorded. In countries like Haiti and Papua New Guinea, events in the first half of 2022 have already triggered more displacements than in the whole of 2021.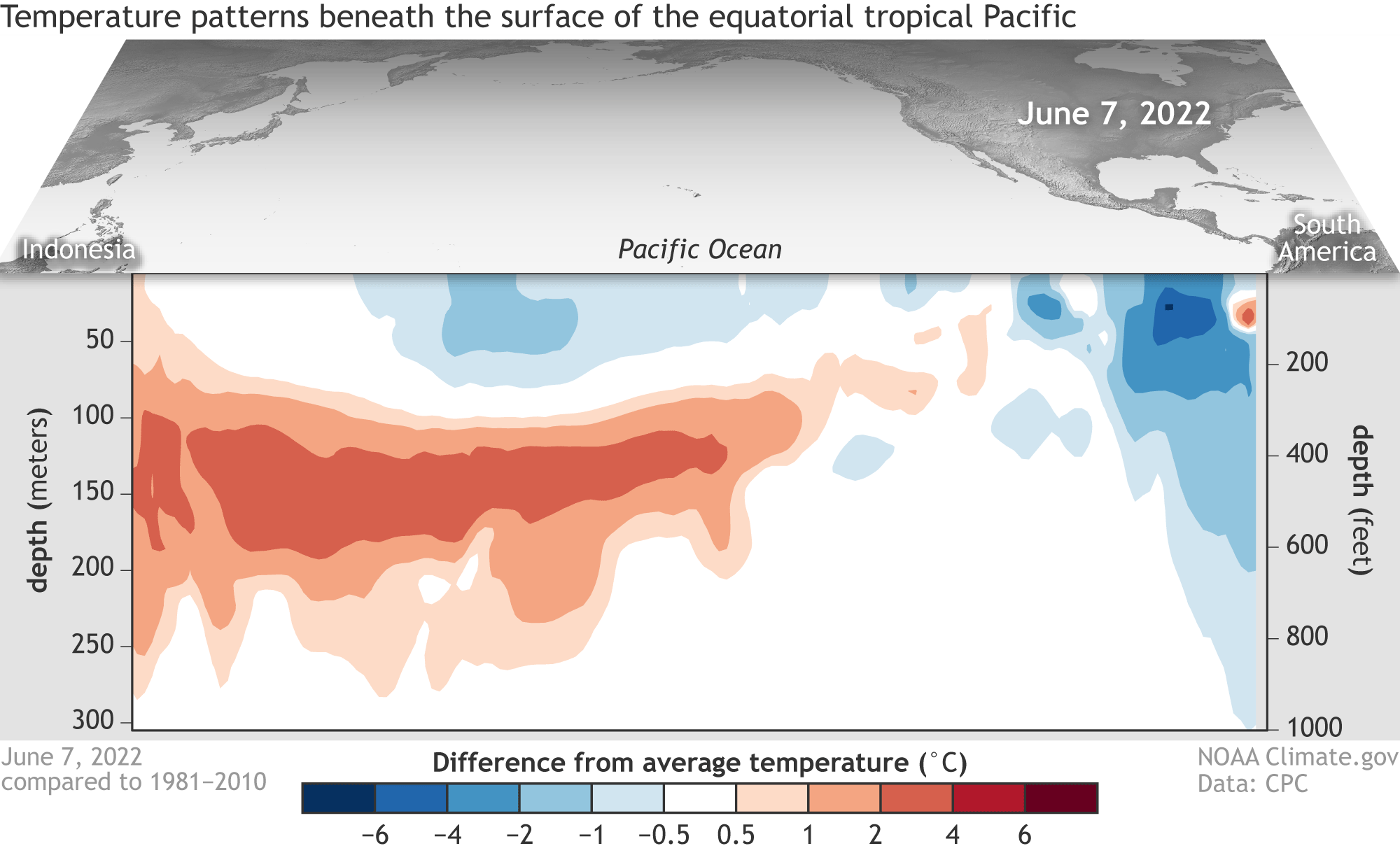 Climate change and variability are propelling severe weather events across many regions, pushing millions of people from their homes. La Niña, the large-scale cooling of surface temperatures in the central and eastern equatorial Pacific Ocean, has been exceptionally prolonged. The phenomenon might normally be expected to last a year, but the latest manifestation began in September 2020 and has continued into 2022, aggravating drought in the Horn of Africa and southern parts of South America while increasing precipitation in Asia and the Pacific. This is particularly concerning given the severe ongoing monsoon season in East and South Asia and the start of the hurricane season in the Atlantic, which are expected to lead to significant displacement. East Africa is also set for an unprecedented fifth below-average rainy season in a row.
Related material: Climate change will fuel greater displacement – what can we do to reverse the trend?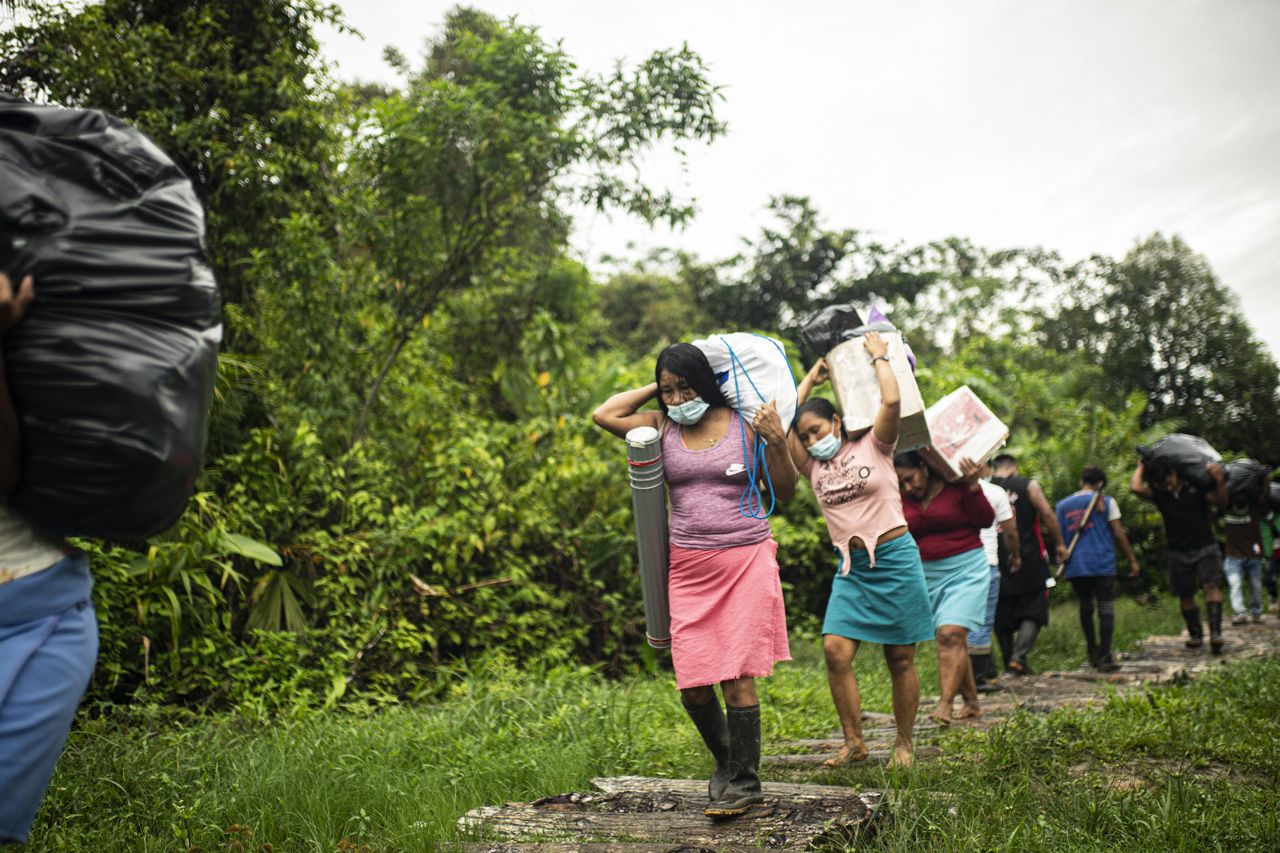 The combined effects of conflict and disasters also continue to trigger new and repeated displacement, adding to the socioeconomic fragility of countries affected by crises and the heightened vulnerabilities many IDPs were already facing as a result of the Covid-19 pandemic.
Background image: Women queue to collect water at Kaam Jiroon internally displaced persons camp for people uprooted by drought in Baidoa, Somalia. ©Abdulkadir Mohamed/NRC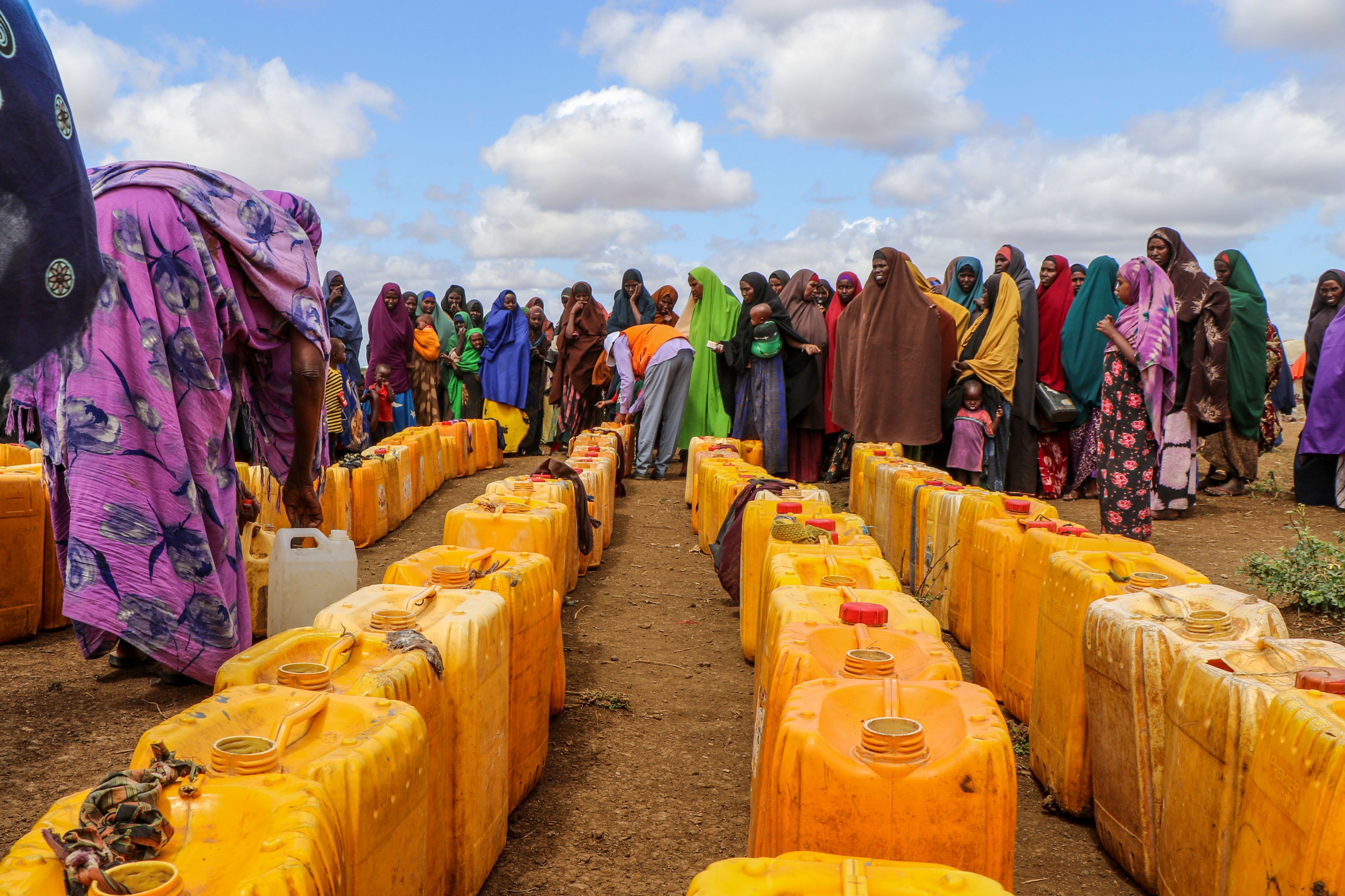 Europe and Central Asia has recorded relatively little internal displacement in recent years, but this trend shifted significantly in February 2022 when Russia began a large-scale military offensive against Ukraine. Attacks launched by land, sea and air from Russia, Belarus and the annexed peninsula of Crimea have targeted numerous cities, forcing millions of civilians to flee both internally and across borders.
Conflict in Ukraine
Obtaining accurate displacement figures in such a fast-changing environment has been challenging, but the country was thought to be hosting as many as eight million IDPs as of early May and 6.3 million as of 23 June (the end of June being the cut-off for our reporting period). Many people have been forced to move several times as the frontlines in the conflict shift. Some of the heaviest fighting has taken place in the east and north of the country.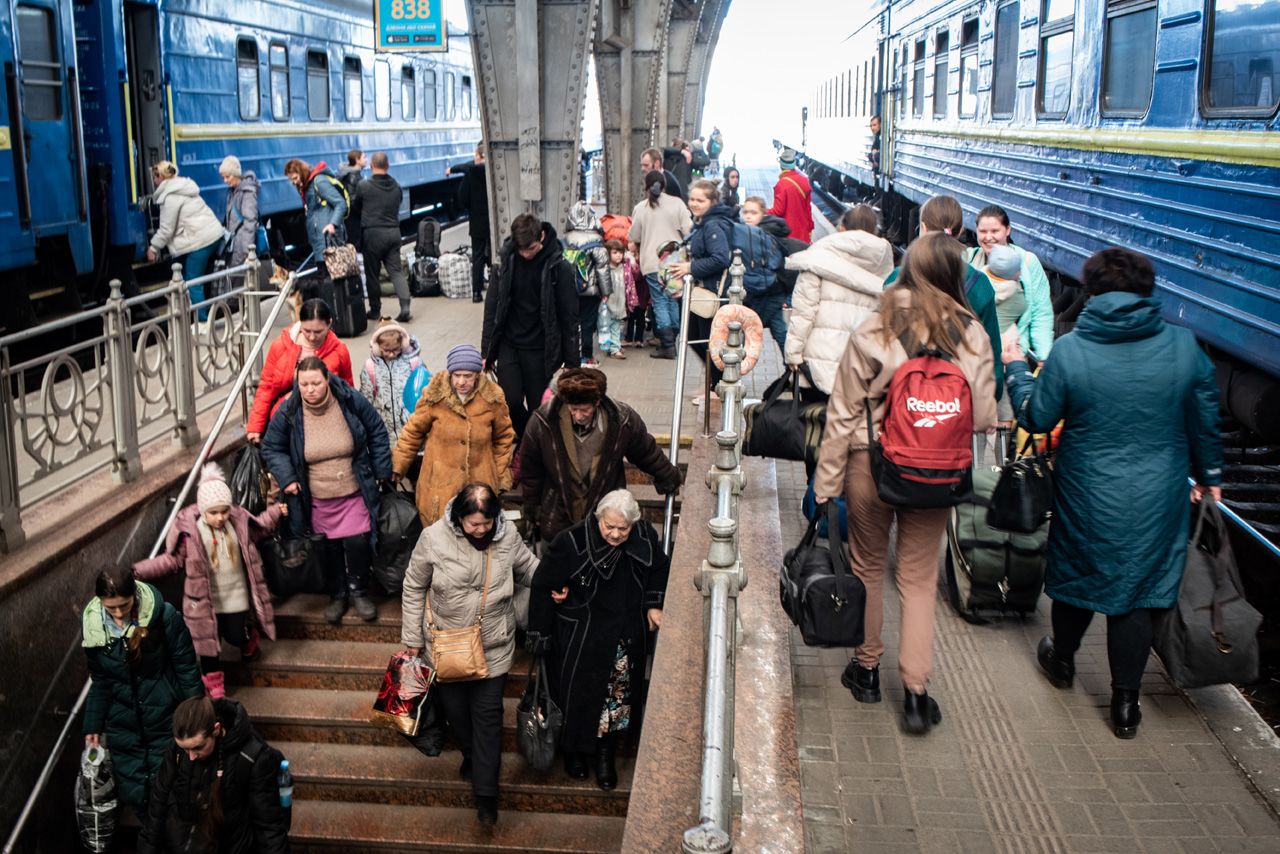 Every macro-region of Ukraine – Centre, East, North, South, West, and the city of Kyiv - has been both a place of origin as well as a destination for IDPs. Most people have fled westwards, but many have sought to stay near their homes, even in the east of the country. Others have tried to return, but the sustainability of many of these movements is questionable. Further displacement is anticipated in the second half of the year before winter sets in, particularly in areas where civilian infrastructure has been or is at risk of being severely damaged or destroyed.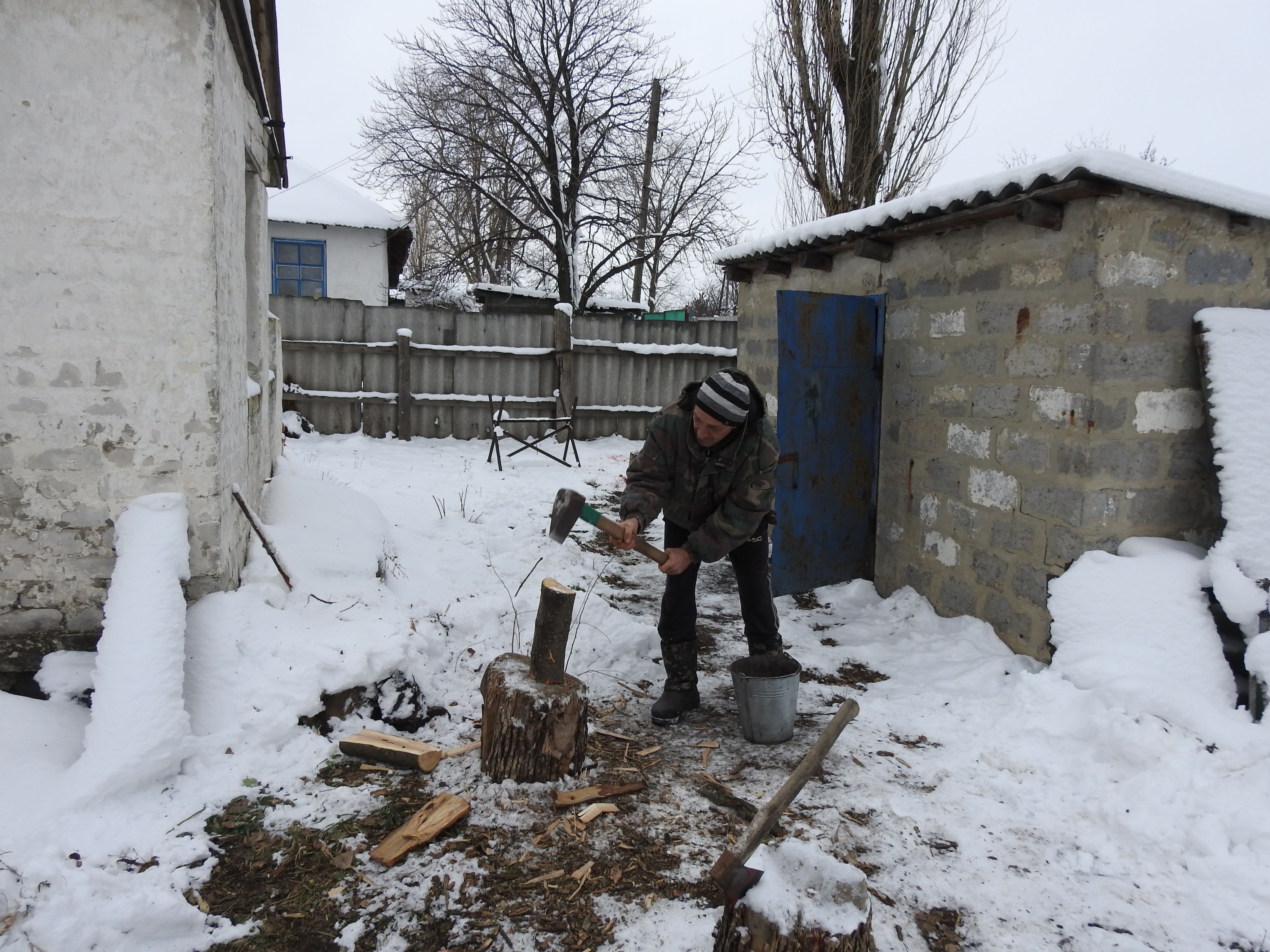 Displacement has also been reported in Russia, particularly in Belgorod, which neighbours Ukraine, albeit on a much lesser scale. Nearly 1,200 evacuations were recorded in the oblast in early April after an oil depot caught fire reportedly as a result of an airstrike.
Given the scale and intensity of the fighting, the number of IDPs in 2022 is likely to be the highest annual figure IDMC has ever recorded for a conflict, both in the region and globally.
Related material: The Road Was Long: A Voice from Ukraine
Background image: Destroyed apartment buildings in Kharkiv, Ukraine. Airstrikes and shelling ever since the escalation of the conflict in February have damaged schools, hospitals and homes. ©UNICEF/UN0634260/Gilbertson VII Photo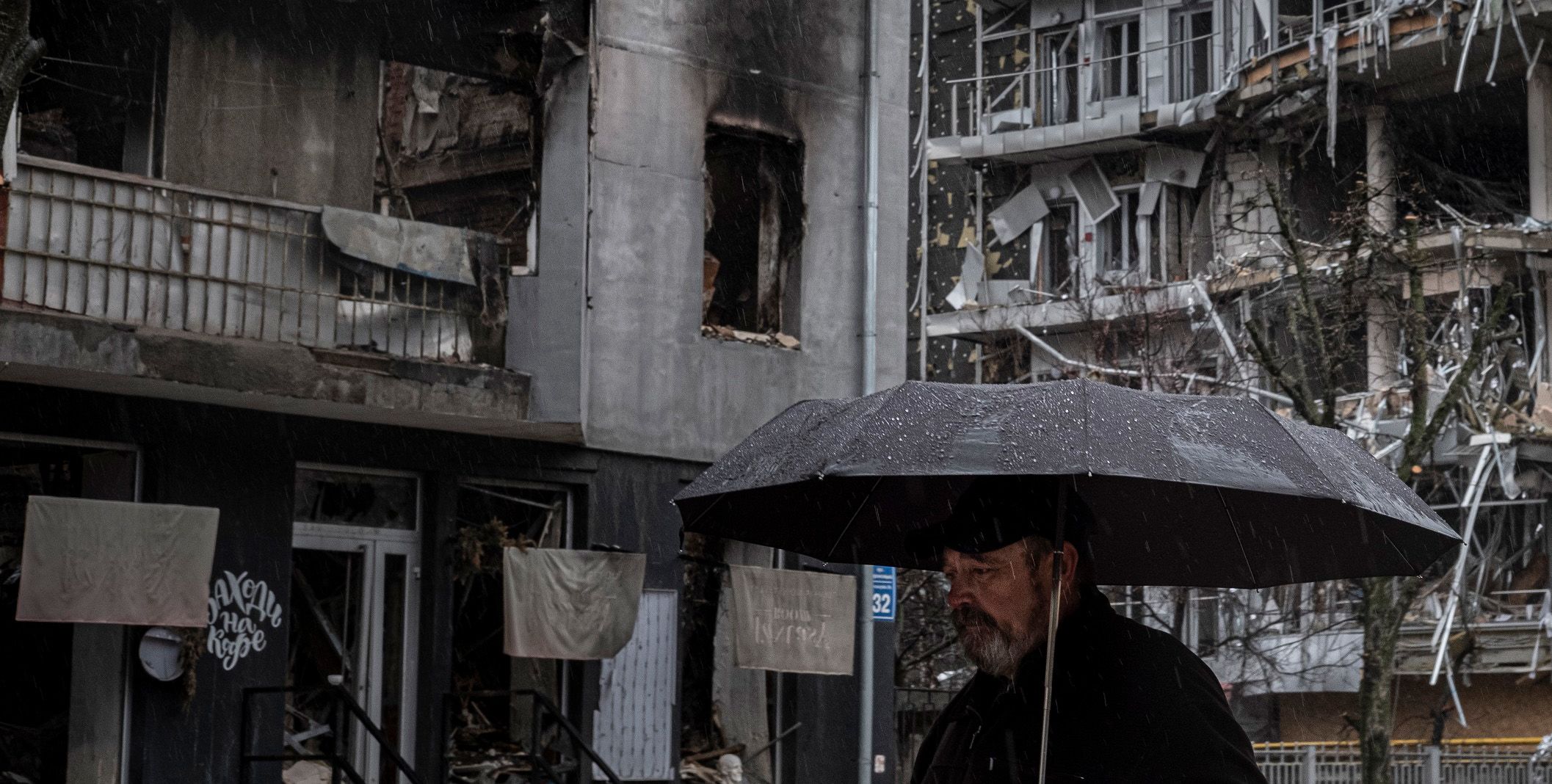 Kyrgyzstan and Tajikistan
Border clashes between the security forces of Kyrgyzstan and Tajikistan also reignited in January, triggering more than 11,000 displacements on the Kyrgyz side. New clashes in the same region triggered a further 19,000 in April. These events took place in the same areas where violence led to 56,000 displacements on both sides of the border in 2021. People tend only to be uprooted for a few days, but the recurrence and scale of the phenomenon create a concerning cycle of vulnerability.
Disaster displacement
Disasters triggered far fewer displacements in the region than conflict in the first half of the year. The most significant event was in Turkey, where flash floods affected several Black Sea provinces after heavy rains that began on 26 June. Nearly 2,800 evacuations were recorded. The Black Sea region is prone to flooding, events are becoming more intense and the risks residents face are aggravated by unregulated development.
A series of earthquakes struck the autonomous Portuguese region of the Azores, a volcanic archipelago in the mid-Atlantic, between 19 March and 11 April. More than 28,000 tremors were reported, of which the population felt 240. They led to around 2,000 voluntary evacuations from the municipality of Velas, apparently driven in large part by fears of an impending eruption similar to that of La Palma in the Canary Islands in 2021.
Background image: A collapsed tree caught in floodwaters next to the raging waters of a stream in Inebolu, Kastamonu, northern Turkey. ©AA PHOTO via Daily Sabah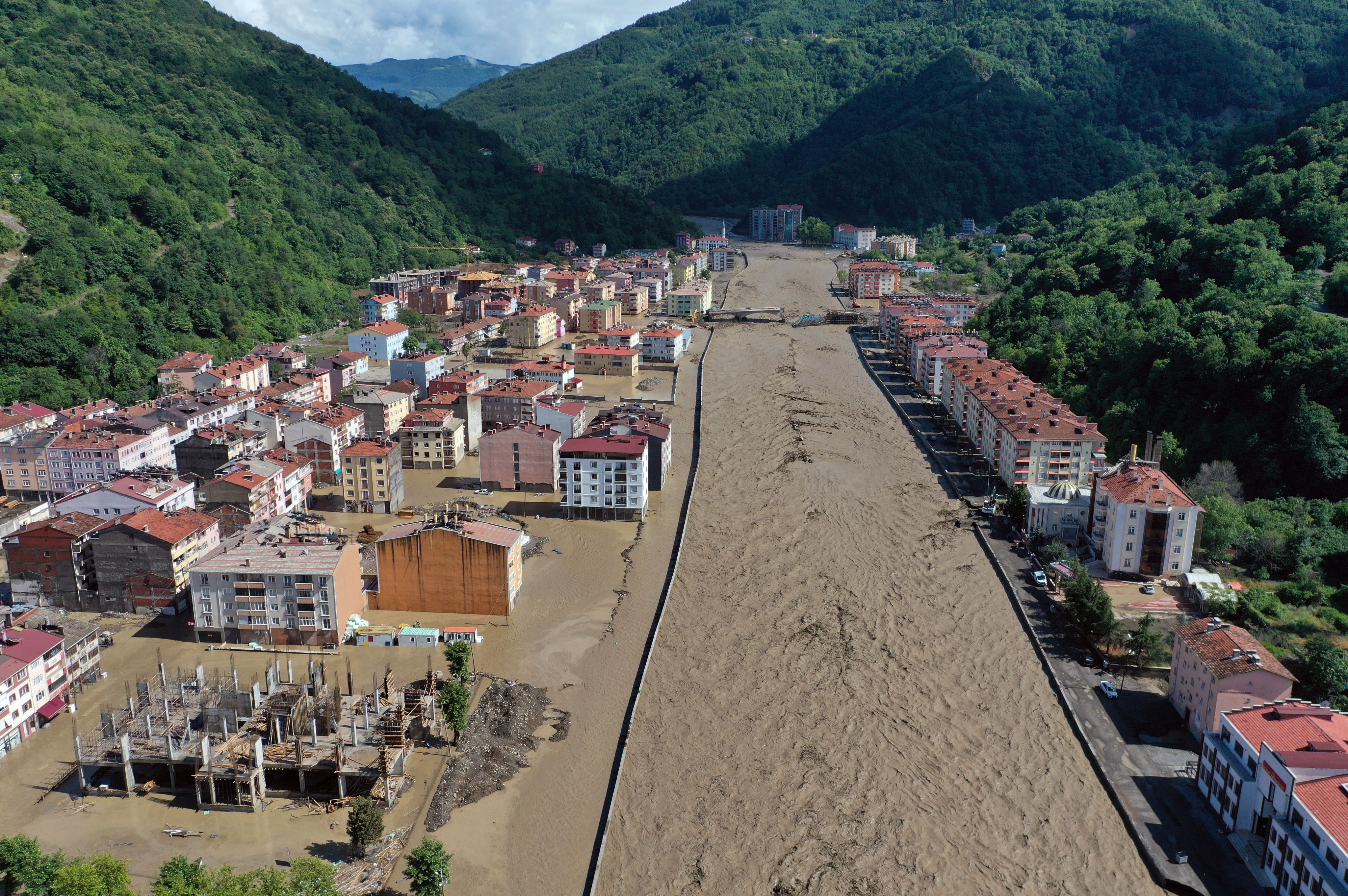 Asia and the Pacific almost invariably records more disaster displacements than any other region and the first half of 2022, when it accounted for just over 80 per cent of the global total, was no exception. A number of countries are prone to both weather-related and geophysical hazards, making the region a displacement risk hotspot.
Floods
The extended manifestation of La Niña led to intense rainfall, storms and floods across the region with India, Bangladesh and China particularly impacted. The monsoon season brought widespread flooding which triggered around 145,000 displacements in the Indian state of Assam between 13 and 23 May and 5,000 in neighbouring Bangladesh. The same areas experienced various rounds of flooding and, by the end of June, 663,000 displacements had been recorded in Assam and 481,000 in Sylhet and Mymensingh divisions in Bangladesh, where 7.2 million people were affected by the worst floods in nearly 20 years.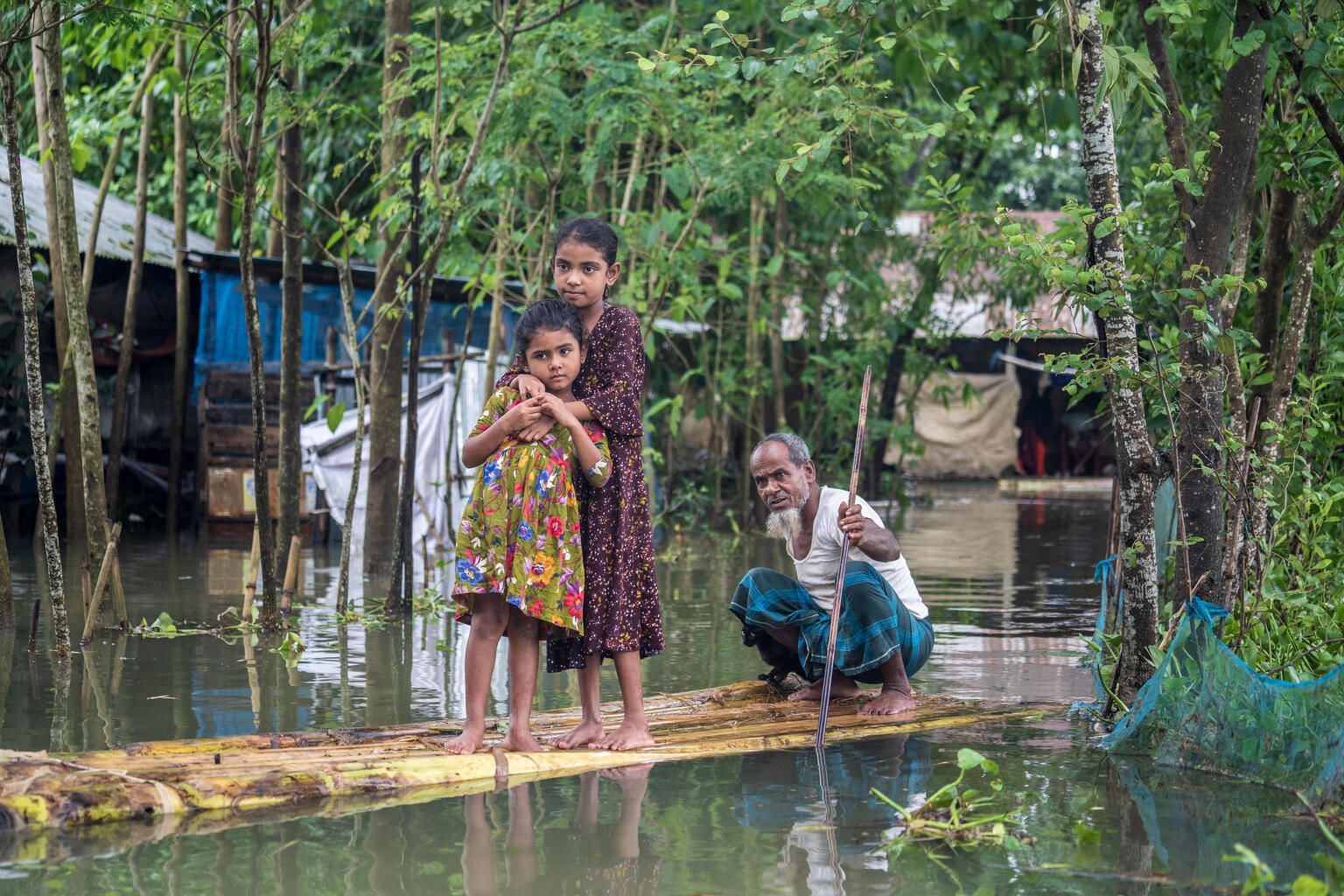 China, which was badly affected by floods in 2021, continued to experience high levels of rainfall in 2022. Around 310,000 displacements were recorded across the country's southern provinces in May and more than a million in June. If the trend continues, China is highly likely to record more disaster displacements in 2022 than in previous years.
Related material: GRID 2022 Spotlight – China: Henan floods
Indonesia also experienced an intense rainy season in the first quarter of the year, though there were fewer floods and associated displacements than in the same period in 2021. More than 22,000 were recorded between January and June, 91 per cent of which took place during the rainy season. The most significant event was recorded in Central Java in mid-March when heavy rains caused five major rivers in Purworejo regency to burst their banks, triggering at least 6,000 displacements.
Historic flooding along the east coast of Australia, particularly in New South Wales and Queensland, triggered around 42,000 displacements in February and March. The federal government declared the country's first national emergency, giving it power to deploy money and resources faster under legislation introduced after the 2019 and 2020 bushfires.
Background image: Millions of people in north-eastern Bangladesh were stranded by flash floods in June. In Sylhet division, 90% of health facilities have been inundated and cases of waterborne diseases continue to rise. ©UNICEF/UN0658485/Sultan Mahmud Mukut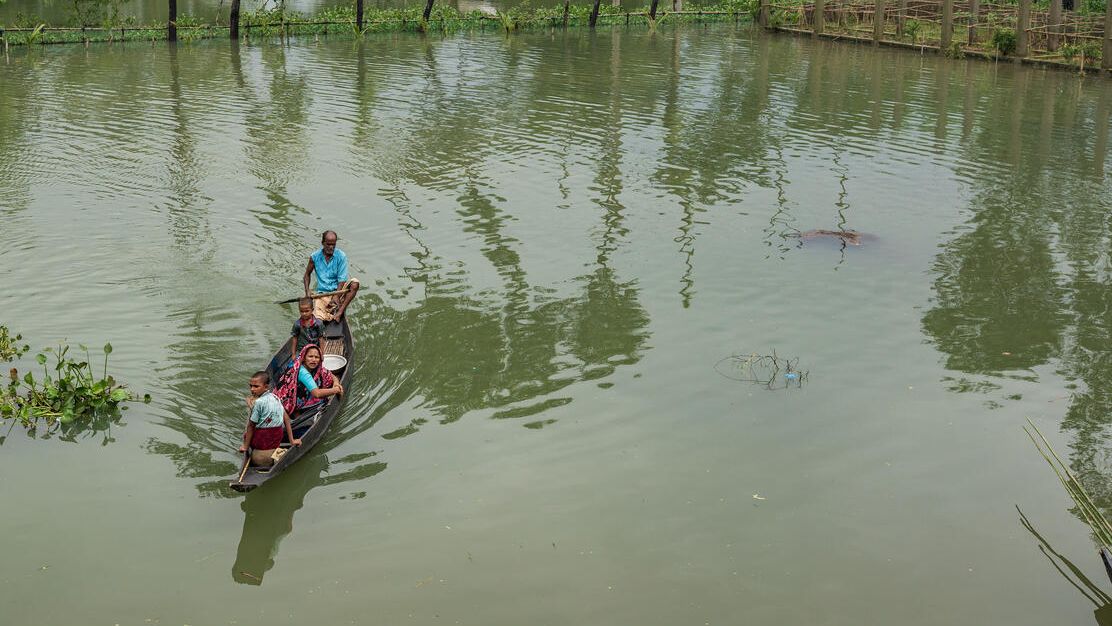 Earthquakes and volcanoes
Geophysical hazards in countries such as Afghanistan, China, Indonesia, Japan and Tonga also forced thousands of people to flee their homes. Two earthquakes in Afghanistan gave cause for particular concern, aggravating humanitarian needs associated with the country's long-running conflict, ongoing drought and widespread food insecurity.
A 5.3 magnitude quake struck Bagdhis province on 17 January, damaging or destroying more than 1,000 homes. It also triggered landslides, and both hazards combined led to 21,000 displacements. The 5.9 quake that struck Spera district in Khost province on 22 June was the country's deadliest in 20 years. It also affected Paktika and Paktia provinces, killing nearly 1,000 people and triggering more than 75,000 displacements.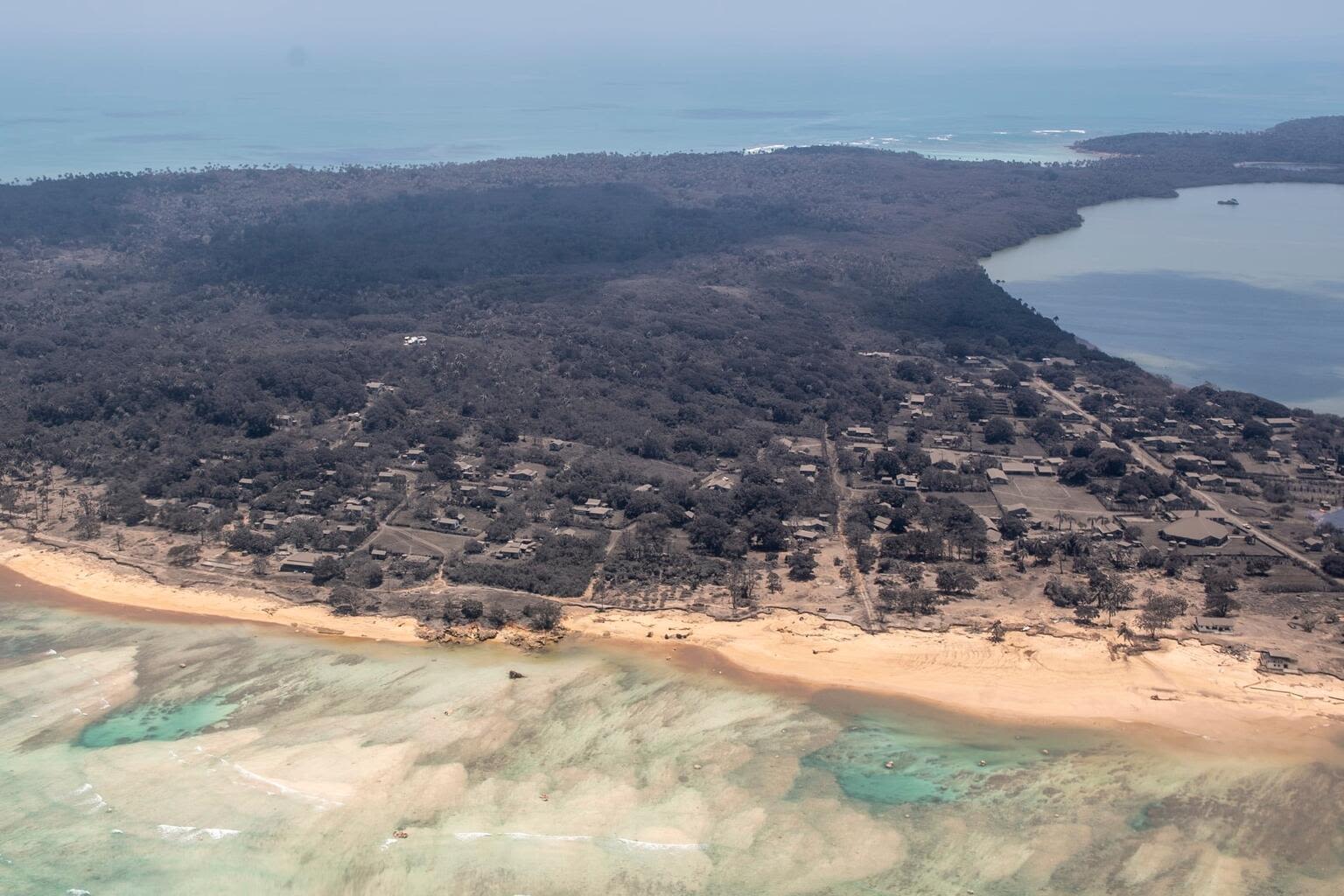 The eruption of the Hunga Tonga-Hunga Haʻapai volcano on 15 January and subsequent tsunami triggered around 2,400 internal displacements in Tonga. Most took place on the island of Tongatapu, home to 75 per cent of the country's population. On top of the destruction the tsunami caused, the eruption dumped ash across the island, which slowed down recovery efforts. Covid-19 cases were also reported in the aftermath of the disaster, prompting authorities to impose a lockdown. This further delayed recovery, leaving hundreds of people displaced for several weeks.
Related material: Disaster displacement: Vanuatu country briefing
Background image: Hakenullah is a villager of Spera district of Khost province, Afghanistan. He lost everything in the devastating earthquake in June. ©Maisam Shafiey/NRC
Conflict and violence
Conflict and violence triggered around 17,000 displacements in Papua New Guinea between January and June, as long-standing feuds and disputes reignited and new grievances emerged in the run-up to national elections in July. The number of displacements recorded represented an 82 per cent increase on the figure for the whole of 2021. Most took place in the Highlands region, where the security situation had already been deteriorating in recent years.
The situation in Myanmar remains complex, and the risk of violence and displacement remains high, particularly in the south-east and north-west. The number of people living in internal displacement exceeded a million for the first time in the first half of 2022, a figure that includes almost 700,000 people who have fled conflict and insecurity since the military takeover in February 2021.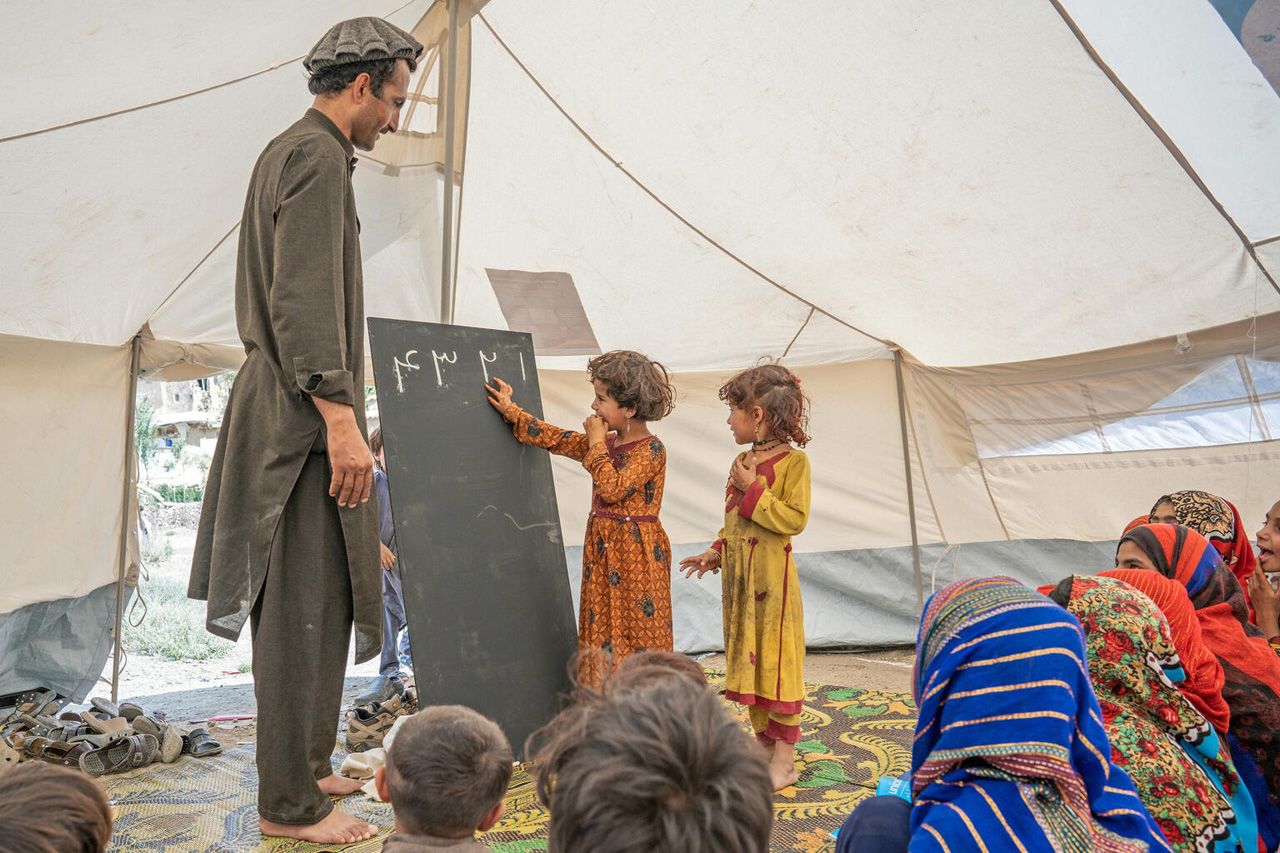 After decades during which conflict, violence and displacement had been an inevitable feature of life for millions of Afghans, only 7,400 new movements were recorded between January and June, IDMC's lowest ever mid-year estimate for the country. Conflict incidents and associated displacement have decreased by almost 100 per cent since the Taliban captured Kabul in August 2021, but the country continues to grapple with one of the world's most acute humanitarian crises. Almost 70 per cent of families are no longer able to meet their basic needs, and internal movements are increasingly driven by poverty, debt and disrupted livelihoods.
Related material: One year on: The Taliban takeover and Afghanistan's changing displacement crisis
Background image: Ma Nilar Than and her two sons at their home, Hlaing Thar Yar Township, Myanmar. ©UNICEF/UN0556781/Nyan Zay Htet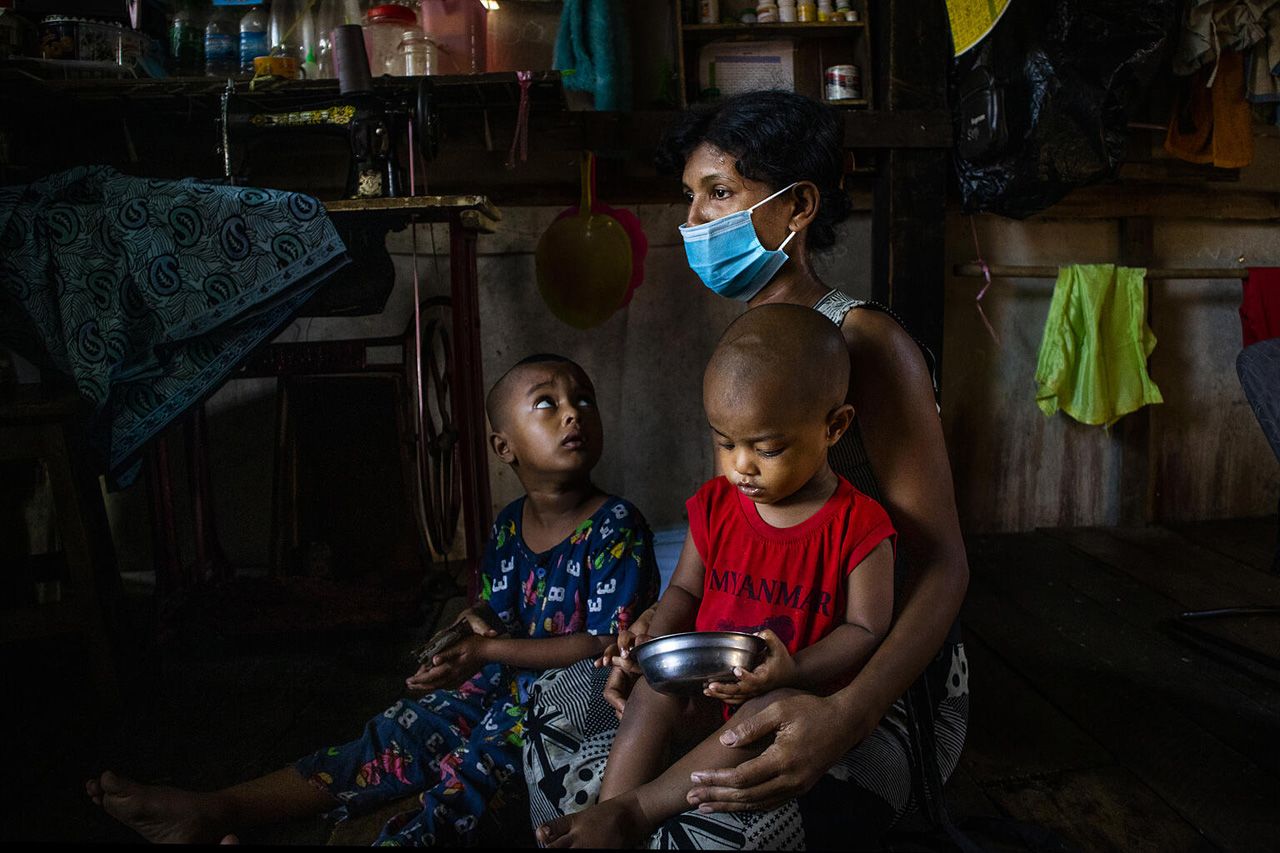 Africa and the Middle East
Central and West Africa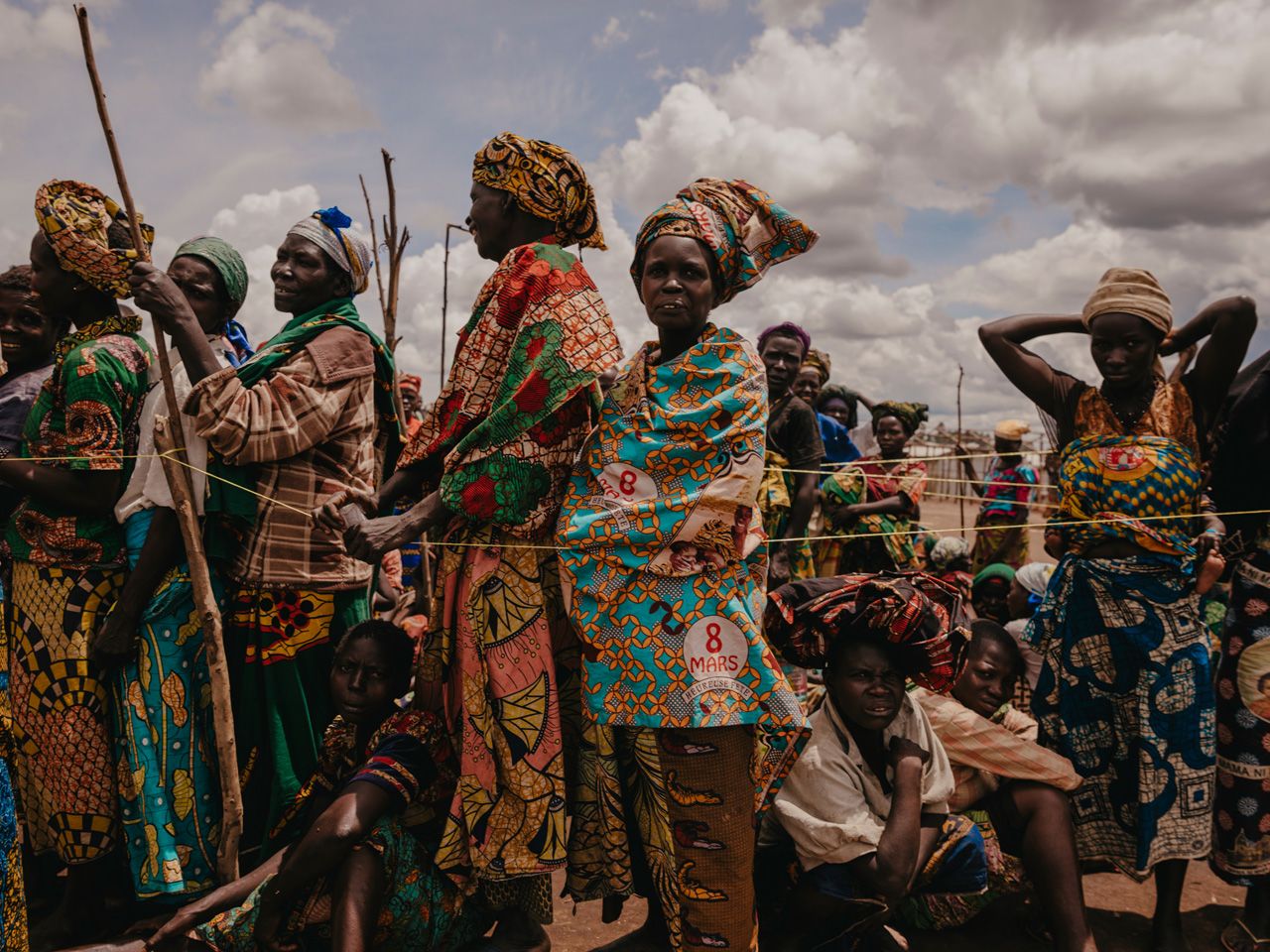 Conflict and violence were the main drivers of displacement in a number of countries in sub-Saharan Africa in the first half of 2022. Armed conflict and intercommunal violence led to more than 870,000 new movements in the Democratic Republic of the Congo (DRC), prompting an agreement in June by the leaders of the seven East African Community countries to deploy a regional force in an effort to end the fighting.
Attacks against civilians by non-state armed groups (NSAGs), a rise in criminal activities and counteroffensives by security forces also combined to trigger hundreds of thousands of displacements in Burkina Faso, Mali, Niger and Nigeria. Figures for some of the countries reached all-time highs, and the situation contributed to deepening food insecurity across the broader West Africa region, which is facing its worst food crisis in a decade.
Eastern Africa
Eastern Africa is in the throes of its worst drought in 40 years. More than 18.4 million people face acute food insecurity after four consecutive failed rainy seasons that have decimated crops and caused a high number of livestock deaths. The combination of extreme drought, food insecurity, conflict and violence has forced hundreds of thousands of people from their homes across Ethiopia, Kenya, Somalia and Sudan.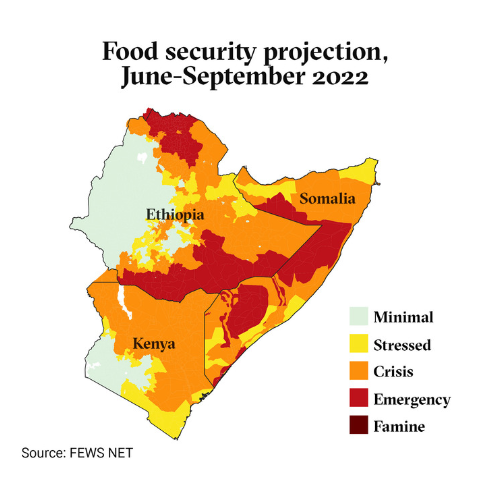 Drought triggered more than 673,000 displacements in Somalia alone between January and June, and high levels of new and repeated conflict displacement were also recorded. If these trends continue, annual figures for the country are likely to surpass those of previous years, particularly for drought displacement.
Related material: The Global Repository of Good Practises compiles examples of effective national and global policies and programmatic solutions to address displacement in the context of climate change.
Armed conflict and violence continued to uproot hundreds of thousands of people from their homes in Ethiopia in the first half of the year. The truce between the federal government and Tigrayan leaders announced in March, however, led to a marked reduction in the number of displacements in the north of the country. In June, Prime Minister Abiy Ahmed announced plans for a peace process. Nevertheless, clashes resumed last month, humanitarian needs remain high and prospects of durable solutions for millions of IDPs uncertain.
Inter-communal violence across other regions also drove large waves of displacement. Ethiopia is experiencing a severe drought following several consecutive failed rainy seasons, which displaced over 100,000 people in the Somali region. Food insecurity is worsening and an increasing number of IDPs are citing lack of food as the main reason for their displacement.
Intercommunal violence is on the rise in Sudan, where political instability has increased since the prime minister's resignation in January. Around 170,000 associated displacements were recorded, most of them in Darfur, according to the International Organization for Migration. In Kenya, competition for scarce resources has fuelled tensions, violence and displacement.
Southern Africa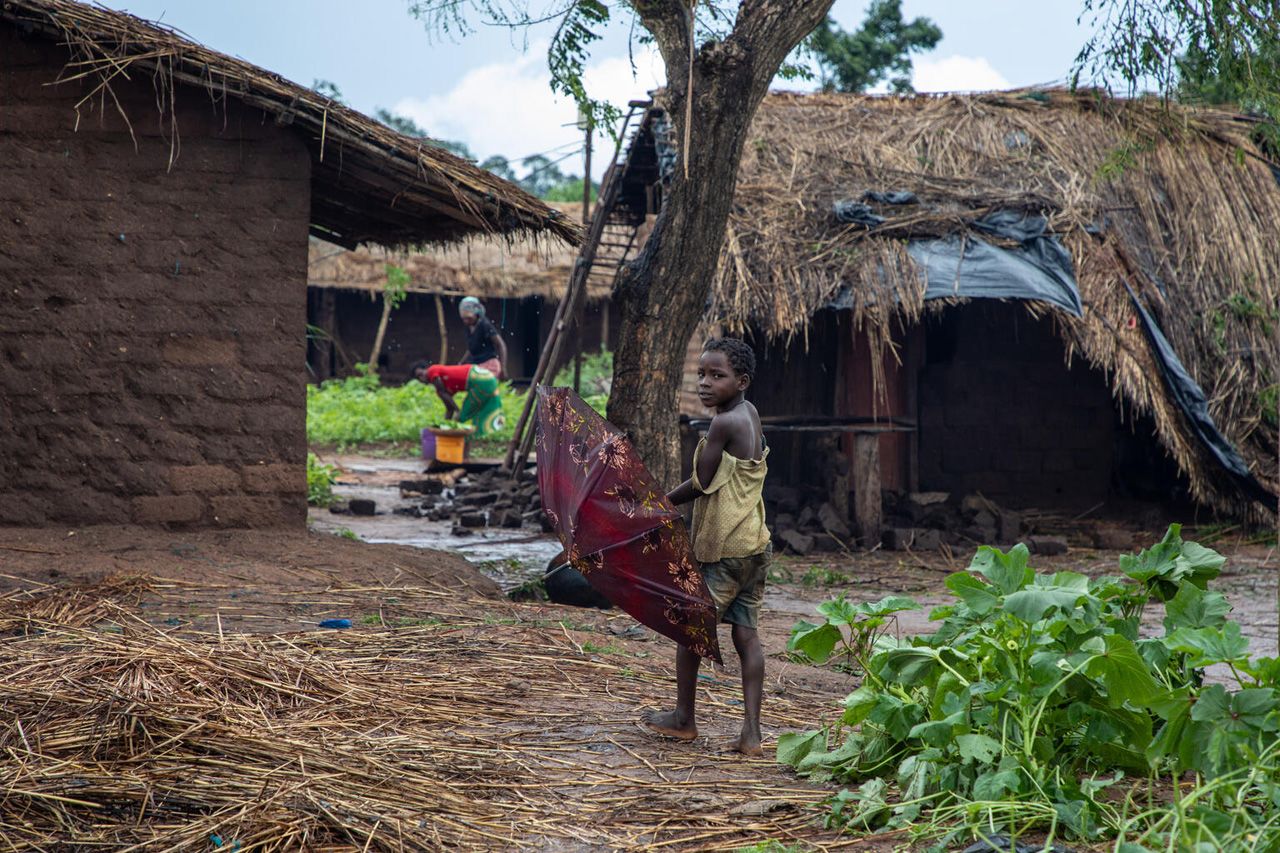 Beyond driving drought, La Niña also fuelled intense tropical storms in the first half of the year. An unprecedented series of five cyclones hit southern Africa over two months, devastating parts of Madagascar, Malawi and Mozambique, and displacing many people already uprooted by cyclone Idai in 2019. The storms, which began in January, also affected Zimbabwe, Mauritius and South Africa, triggering nearly 600,000 displacements in all. Many people were forced to flee several times as high winds and heavy rains destroyed homes, damaged infrastructure and disrupted health and education services.
The Middle East
Extreme weather also led to displacement in the Middle East, where significant floods early in the year triggered nearly 12,000 displacements in Iran and 5,000 in Yemen, (according to the Shelter Cluster Floods Tracking Matrix). They also led to more than 5,000 secondary displacements in Syria, where the tents of people already uprooted by conflict were destroyed. Drought triggered more than 16,000 displacements in Iraq and aggravated food insecurity and the humanitarian needs of millions of IDPs across the region.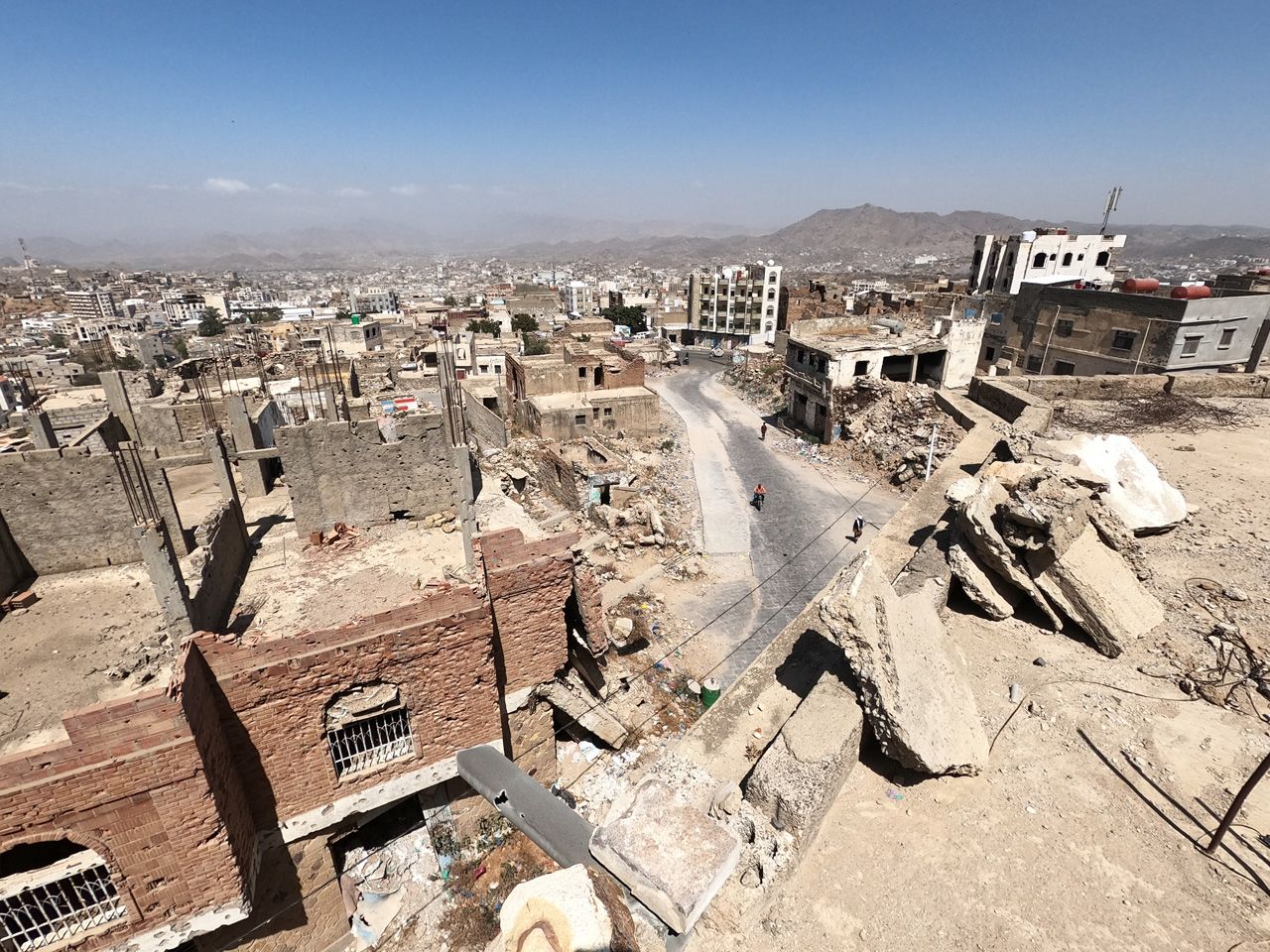 In Yemen, suffering from seven years of conflict, a truce came into effect on 2 April for an initial period of two months and was renewed twice again through to October. This contributed to a reduction in displacements and civilian casualties of nearly 50 per cent, but around 232,000 movements were still recorded across the country, most of them the result of conflict. Armed conflict and violence continued to trigger displacement across the region particularly in Syria, Iraq, Palestine and Israel, while intercommunal violence forced people to flee their homes in Lebanon.
Related material: The truce in Yemen: Opportunities and challenges for IDPs
Background image 1: Families displaced by conflict between M23 forces and the Congolese Army (FARDC) seeking shelter in a school in Munigi, Goma, Democratic Republic of Congo. ©Hugh Kinsella Cunningham/NRC
Background image 2: An unprecedented fourth failed rainy season has forced Somalia into a climate emergency. Kaam Jiroon displacement camp in Baidoa hosts families who have fled rural areas in search of assistance. ©Abdulkadir Mohamed/NRC
Background image 3: Um Rakuba camp is located 70 kilometres from the Ethiopian border inside eastern Sudan. It hosts tens of thousands of Ethiopians who have fled fighting in the Tigray region. ©Ingebjørg Kårstad/NRC
Background image 4: Heavy rains flooded parts of Hajjah and Marib governorates, Yemen earlier this year. ©NRC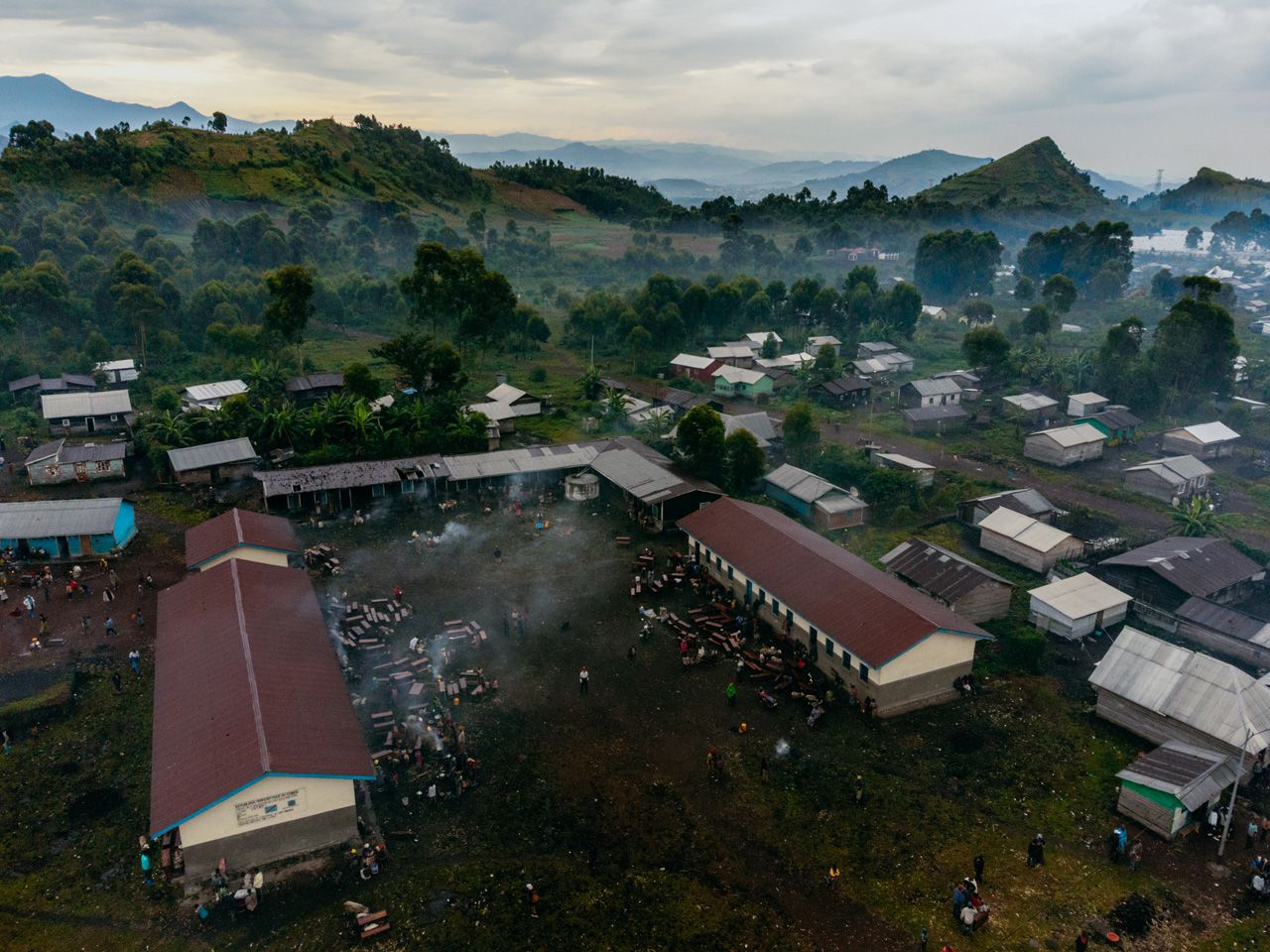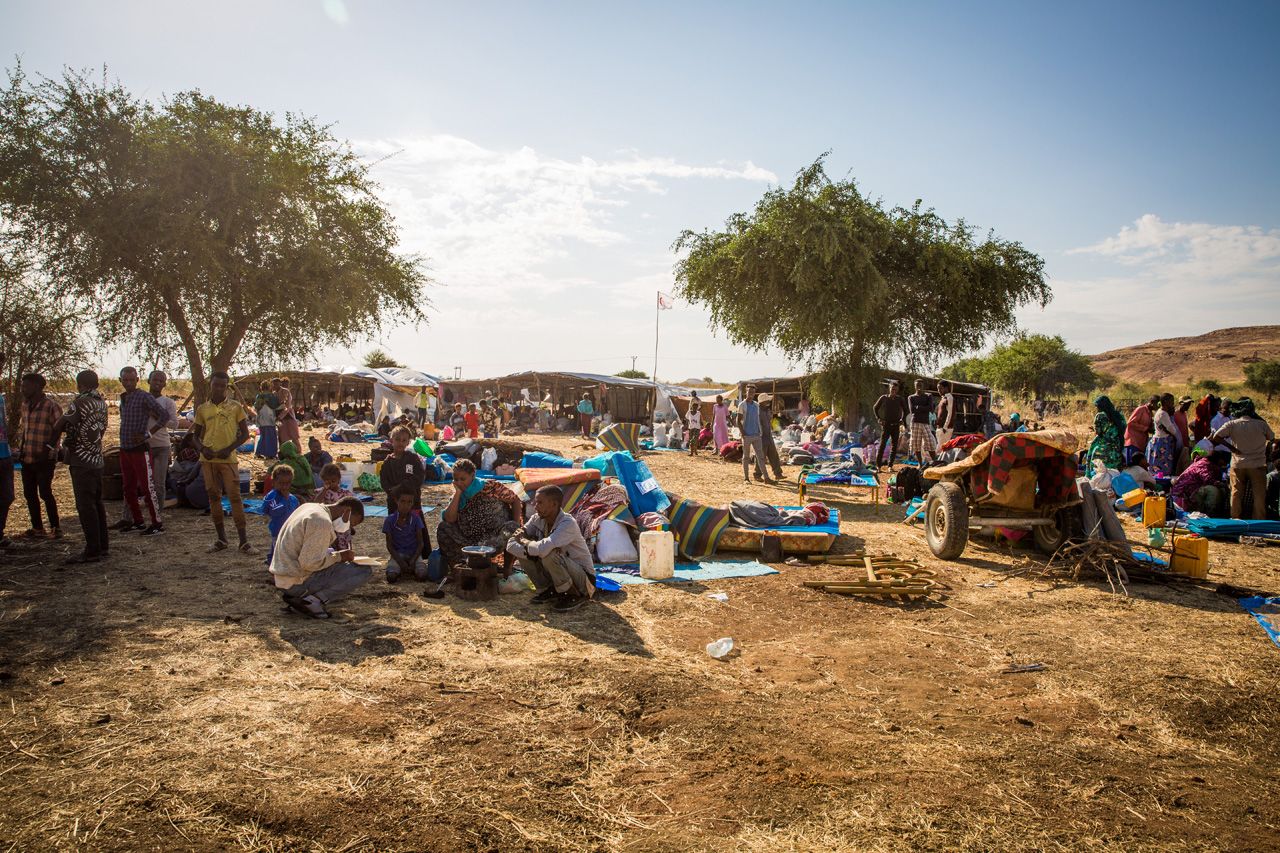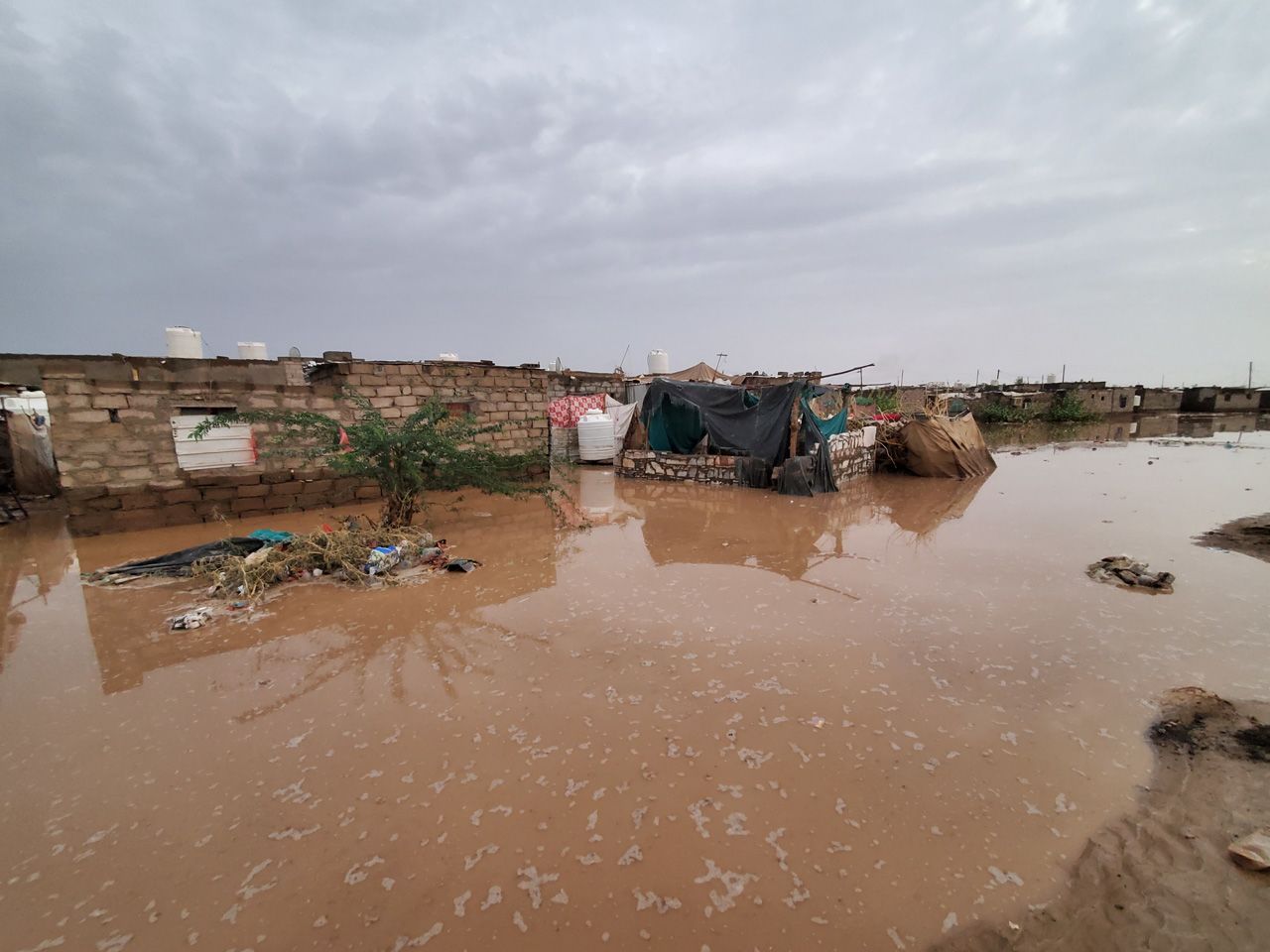 Floods
Disasters triggered significant numbers of displacements in the Americas in the first half of 2022, most notably in Brazil where storms and floods led to 656,000, the highest figure ever recorded for the country. Unprecedented rainfall fuelled by above-average sea-level temperatures triggered more than 212,000 in January, of which 128,000 took place in Minas Gerais, the worst affected state.
Further heavy rains in May led to the worst disaster in 50 years in the state of Pernambuco, where floods and landslides triggered 135,000 displacements and claimed 129 lives. The municipality of Jaboatão dos Guararapes was worst affected, accounting for almost three-quarters of the displacements and half of the deaths. Around 15 per cent of the city's population was forced to flee.
Wildfires
The US suffered a series of severe wildfires. A blaze near the National Center for Atmospheric Research in Boulder, Colorado, triggered around 19,000 mandatory evacuations in March, just a few months after the Marshall fire had forced 35,000 in the same area. This fire, which destroyed more than 1,000 homes in the last days of 2021, was the most destructive in the state's history in terms of structures lost. The Bertha Swamp Road and the Adkins Avenue fires triggered 8,800 evacuations in Florida, also in March. Thousands of acres of dead trees left behind after hurricane Michael in 2018 provided tinder for the fires, an example of the cascading impacts disasters can have.
Wildfires also triggered displacements in the south-west of the country, where local authorities in Sevier county, Tennessee, issued mandatory evacuation orders to 11,000 homes in response to a blaze in March. The scale of the evacuations reflects the lessons learned from a 2016 fire that devastated the town of Gatlinburg in the same county. The Calf Canyon and Hermit's Peak fires in New Mexico merged into what became the largest wildfire in the state's history, triggering nearly 29,000 displacements and destroying more than 400 homes between April and June.
Earthquakes
The Haitian department of Nippes, which was devastated by a 7.2 magnitude earthquake in August 2021, was struck by two powerful aftershocks from the original event on 24 January. The aftershocks, of magnitude 5.4 and 5.6, left 834 families – an estimated 3,600 individuals – homeless. A week later, heavy rains and flooding in the same department of Nippes, as well as in Nord and Nord-Est, left 2,500 families in need of shelter.
Conflict and violence
Criminal violence also continued to affect the country in the first half of 2022. A new wave of armed clashes between rival gangs flared in the Port-au-Prince metropolitan area on 23 April and had triggered more than 38,000 displacements by the end of June, more than the 20,000 reported in the whole of 2021 and the highest figure ever recorded for the country. A truce between the gangs was agreed in mid-May, but further clashes and displacement were reported in early June.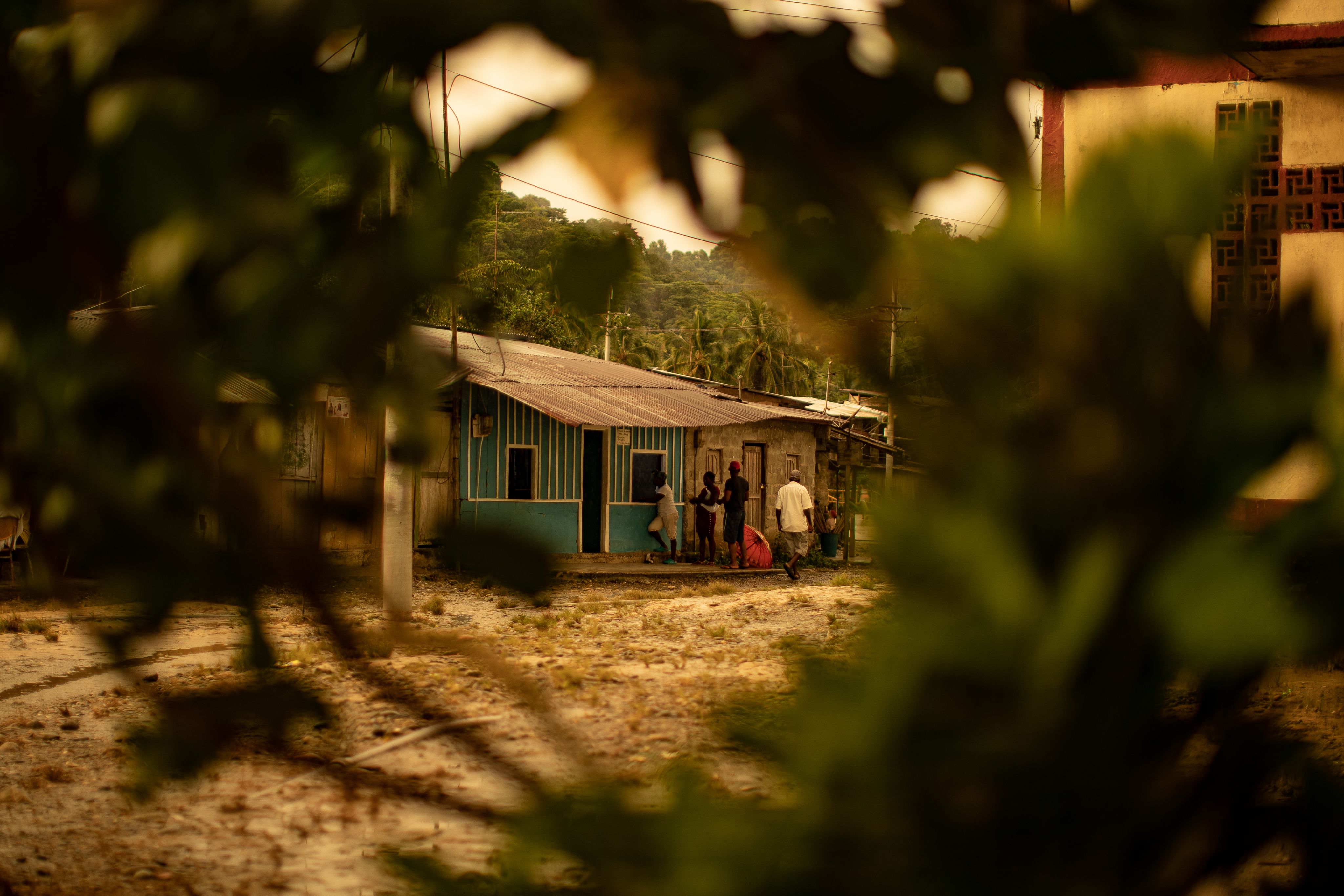 Conflict and violence also triggered more than 13,000 displacements in Colombia, mostly the result of territorial disputes between non-state armed groups and criminal groups. Nariño department was worst affected, with at least 8,500. Around 4,600 movements were recorded in April alone, of which almost two-thirds took place in the municipality of Olaya Herrera. Arauca department recorded 1,600 displacements, Chocó 1,500 and Valle del Cauca 670.
Related material: Impacts of displacement: Conflict and violence in Quibdó and Caucasia, Colombia
Around 890 displacements triggered by criminal and intercommunal violence were recorded in Mexico. The state of Chihuahua was worst affected with 300, more than a third of which involved the Rarámuri indigenous community. Clashes between criminal groups over control of an area known as the "golden triangle" of drug trafficking, situated between Chihuahua, Durango and Sinaloa, accounted for much of the displacement in the three states.
Clashes between the Jalisco New Generation and Sinaloa cartels also triggered around 180 displacements in Zacatecas. In some cases, the violence left whole communities depopulated, as was the case with the town of Palmas Altas in Jerez municipality. Communal violence triggered around 130 displacements in southern Mexico, particularly among indigenous groups.
Background image 1: Residents clear mud and debris from homes following heavy rain and flooding in Raposos, Minas Gerais state, Brazil. ©Jonne Roriz/Bloomberg via Getty Images
Background image 2: A firefighter battles a fast-growing brush fire which forced evacuations and the closure of a freeway near Los Angeles, California. ©Eric Thayer/Bloomberg via Getty Images
Background image 3: Doris was eight years old when armed men took her mother away. Now she is determined to help families like her who are still affected by armed conflict in north-eastern Colombia. ©Ángela Peñaloza/NRC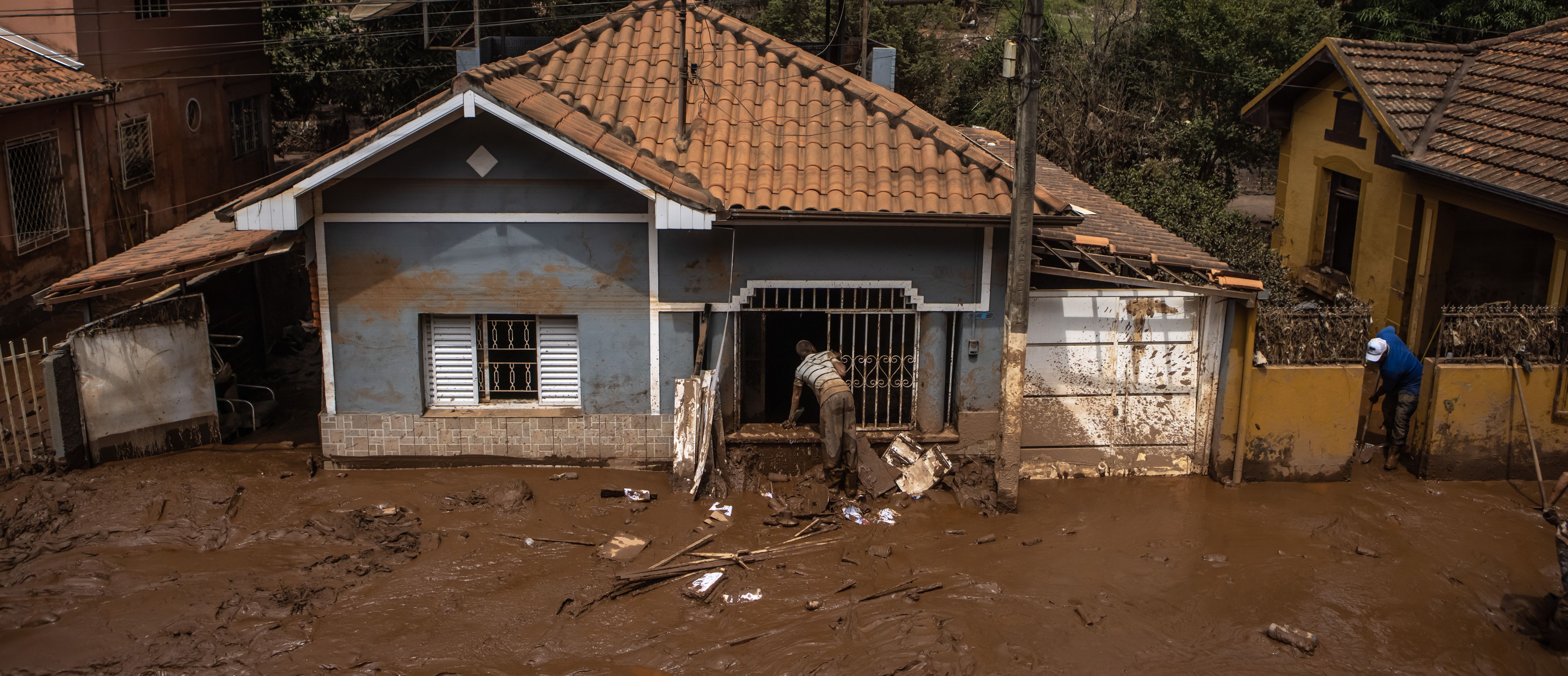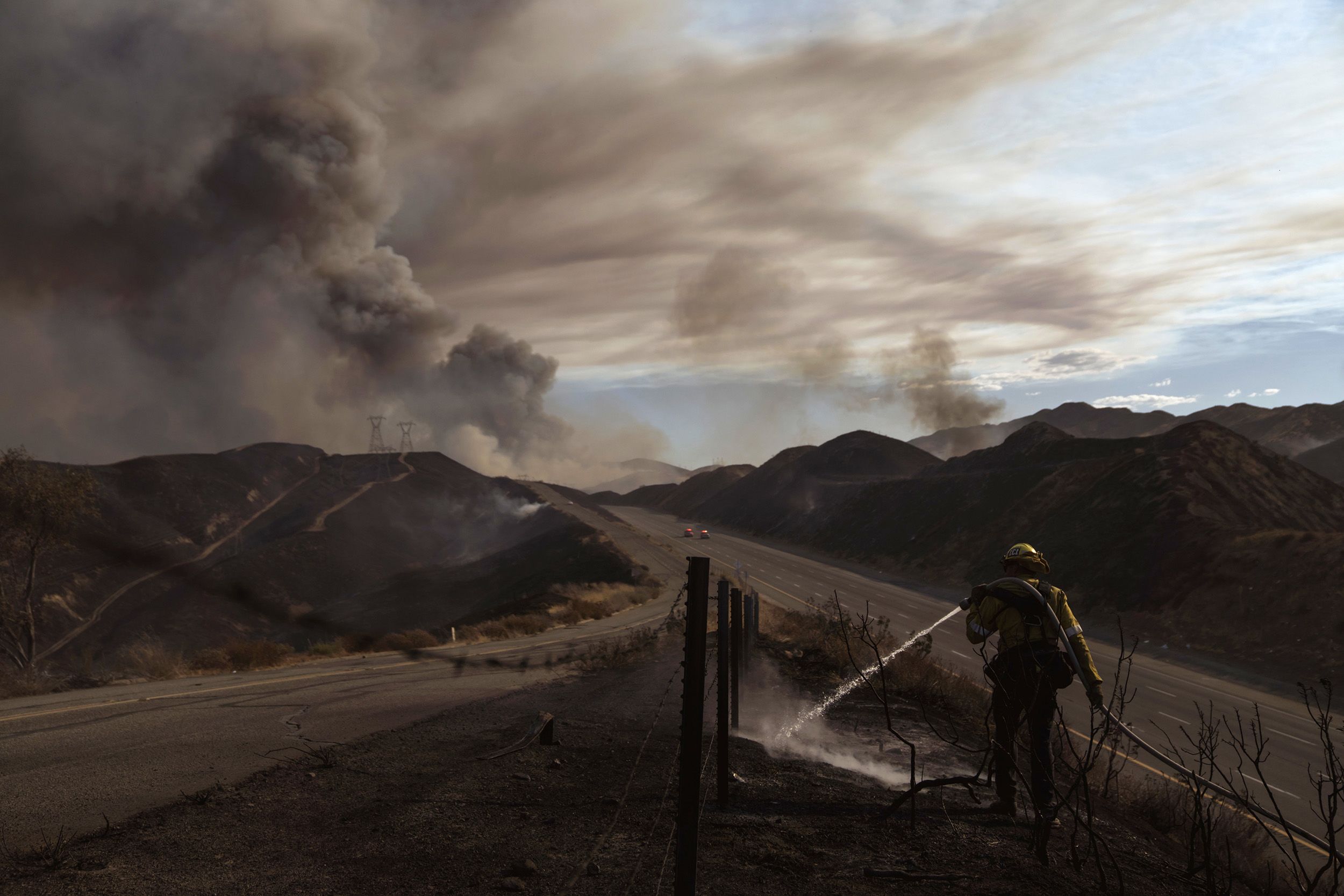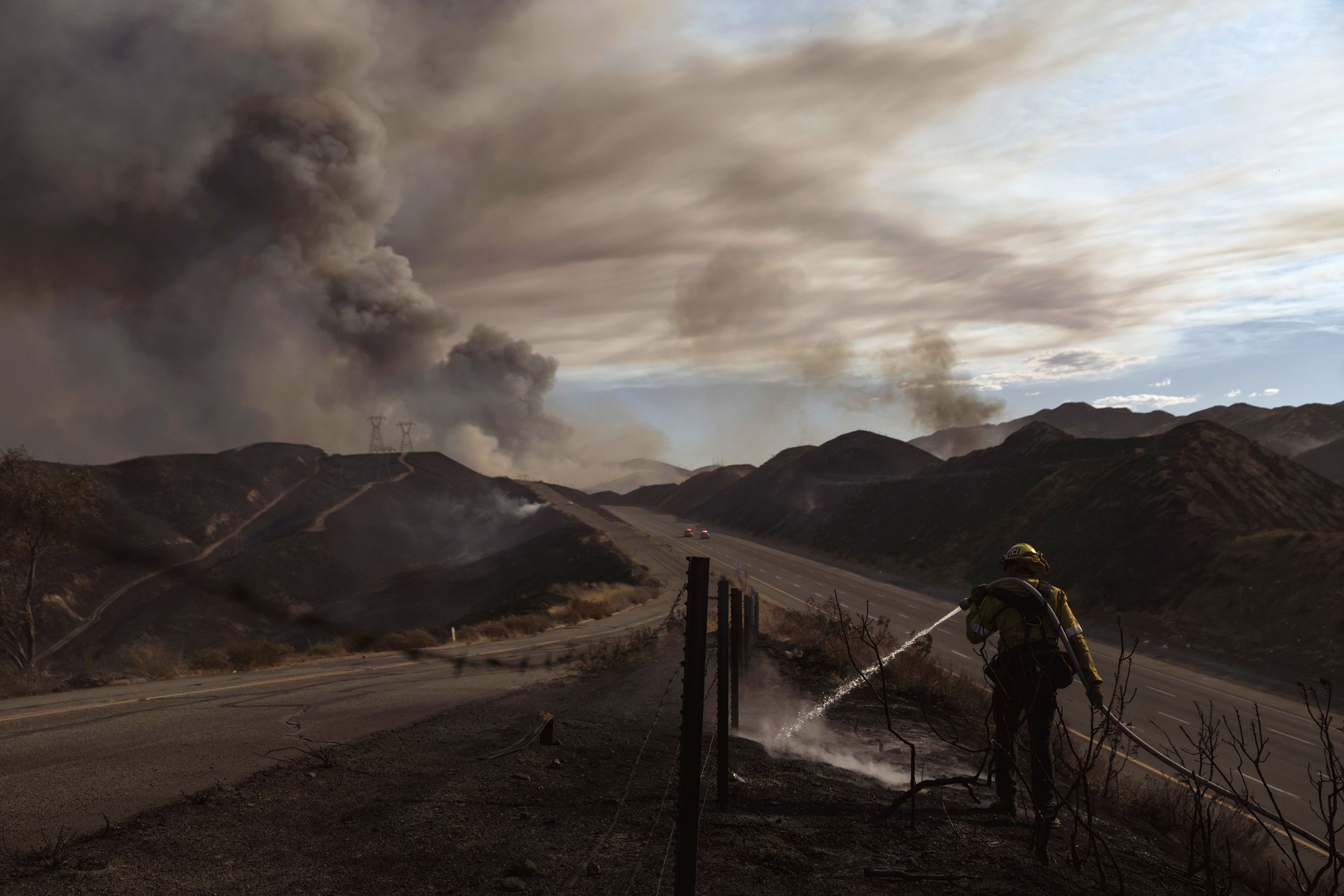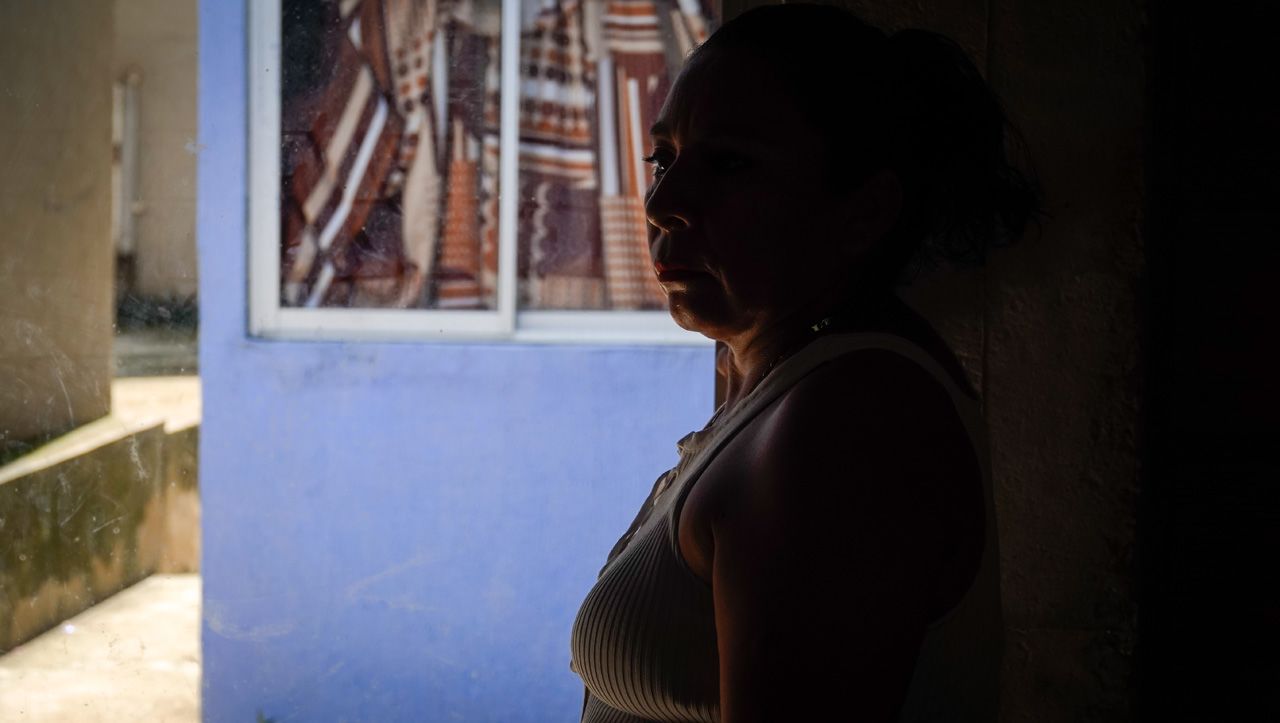 The figures presented here are already touching record levels for many countries, but only represent partial estimates because of the different reporting timeframes and the geographical coverage of the different sources. We will continue to identify new sources of data on internal displacement triggered by conflict, violence and disasters, triangulate them and collaborate with partners and data producers around the world to improve and verify our estimates. As always, IDMC's final verified figures of internal displacement for 2022 will be presented in our 2023 Global Report on Internal Displacement which will be released in May 2023.